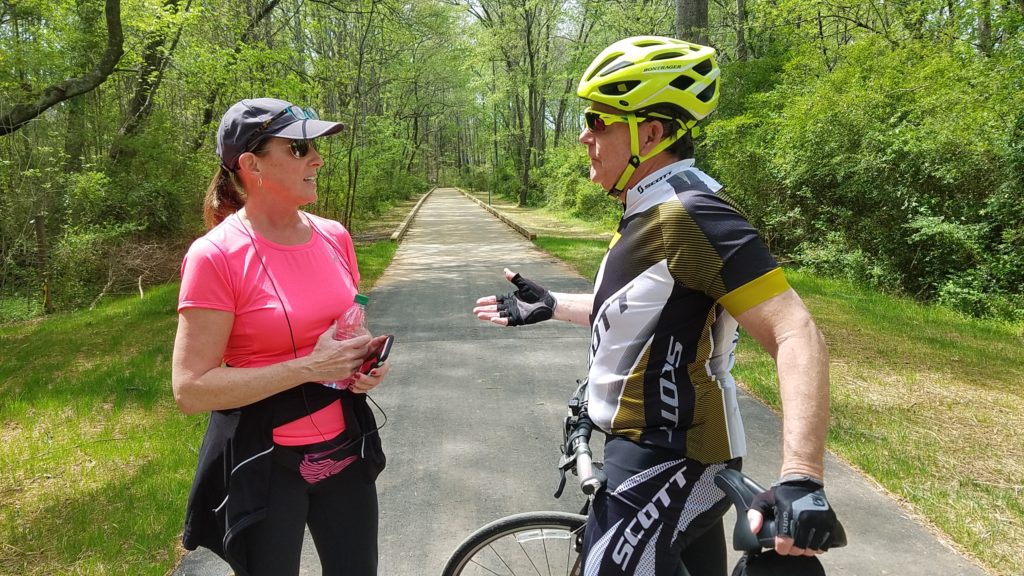 By Dave Yochum. Greenways are increasing our CQ. Indeed, the town's Coolness Quotient officially goes up by 2.6 miles on May 13 when the Caldwell Station Creek Greenway officially opens with a dedication ceremony and run.
"I'm not a biker or a jogger but I know they mean a lot to people, you take the enthusiasm—wow, people love these things," says Town Commissioner Jim Duke.
Most people agree greenways are economic development engines, too. In fact, one in five tourists travel for outdoor recreation activities; the Pittsburgh to Cumberland Trail in Pennsylvania reports more than 500,000 visitors a year.
Businesses looking for the younger knowledge workers want to locate on greenways, too.
They are about as strong an economic development engine as you can get, says Scott Higgins, the chairman of the town's PARC Commission, the board in charge of things like parks and greenways.
"The most requested amenity of municipalities is greenways," Duke says. "Millennials and Baby Boomers want to get out of their cars and walk."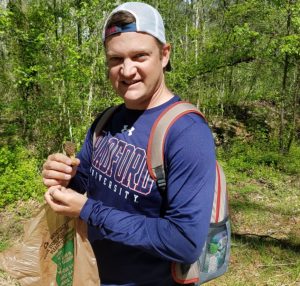 Greenways are meant for walking—and biking—from Point A to Point B, and places in between. The 2.6 mile Caldwell Station Creek Greenway winds its way from Hwy. 115 near Bailey Road to Hwy. 21 just north of the Northcross Shopping Center. Along the way, the greenway passes neighborhoods like Heritage Green, Glenridge, Oakhurst and Poole Place, as well as through woods, alongside streams and by patches of morrells, a mushroom that pops up in early spring.
The greenways are part of the vision that was in the 2015 comprehensive parks and greenways master plan. The town vision is that they will form an "emerald necklace" that will encircle the town with more than 14 miles of trails. Someday greenways or marked bike paths will go down peninsulas like Bethel Church, Jetton and Torrence Chapel.
According to PARC Director Troy Fitzsimmons, the greenways will connect where we live with parks, stores and civic facilities "offering alternative means to get to and from these destinations."
That's a real factor in economic development, says Town Commissioner Jim Duke.
He calls them "business advantages." Companies looking to locate in Cornelius want greenways and other amenities that appeal to a younger, more mobile and affluent workforce.
Realtors have found that proximity to a trail is a key factor in home sales.
"More folks like to get out on bikes, walk and jog, as well as just enjoy the outdoors," Duke said.
Higgins called it communing with nature. Greenways are quiet and peaceful, green and action-oriented. People use them to walk, and think.
On a recent workday, business types were also taking brisk lunchtime walks, counting steps toward their daily 10,000.
An older generation of Americans is automobile oriented, not so much Baby Boomers and Millennials. "Our greenways offer this sought-after life style," Duke says.
Cornelius residents like Gerard Thomas agree. He and his family bike everywhere they can, forgoing the use of a car as much as possible.
"The new greenway provides a much-needed safe route for pedestrians and cyclists who live in Cornelius and Davidson and need connectivity to the Northcross shopping plaza and business park as well as the North Regional Library," he said.
The Town's new "Bike Cornelius" plan provides the framework for guiding municipal decisions that effect the way developers design new communities.
Additionally, the completion of the necklace will provide a draw throughout the area for folks to tour Cornelius and visit restaurants, stores and other local businesses.
The "Bike Cornelius" plan is on the town website: www.cornelius.org/466/Bicycle-Master-Plan
---
Go Greenway May 13

To mark the opening of the Caldwell Station Creek Greenway, the Cornelius PARC Department will hold the second annual trail run Saturday, May 13.
The 2.6-mile run/walk will feature several low-impact fitness stations and challenges throughout the event course.
The race will begin immediately following the greenway dedication and ribbon cutting at 10 a.m.
Packet pick-up and on-site event registration will begin at 8:30 at the Caldwell Station Creek Greenway entrance on Old Statesville Road. For this event only, participants may park in the Foamex parking lot. Parking is also available at Bailey Road Park.
Registration is open to ages 5 to adult. Entry costs $26 per participant. There is a limited supply of shirts. To register or for more information, visit cornelius.org/parc or call 704-892-6031.
And there's more.
An 8-mile community bike ride will begin on Caldwell Station Creek Greenway at 8:30 a.m. and will travel through the neighborhoods and greenways of Cornelius and Davidson.