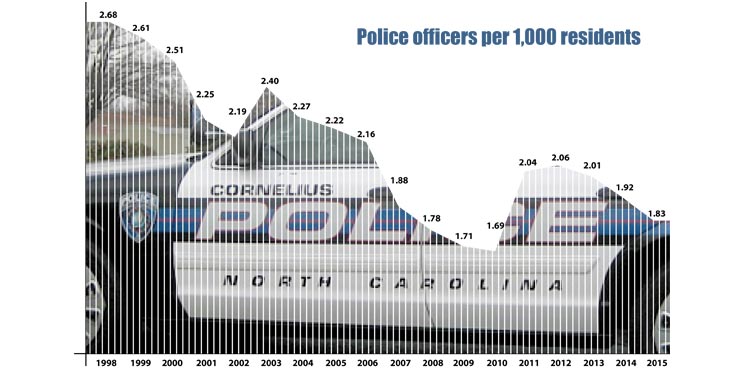 For the first time since 2009, Cornelius is eligible for a state grant which would initially cover the salaries for two new traffic enforcement officers. The town police force currently has three such officers, spread out among all shifts. Their salaries are covered with town funds.
The grant eligibility was revealed at a Town Board Meeting by Town Manager Anthony Roberts. "These grants come with a declining formula for their salaries, so we need to discuss this with the commissioners."
Police Chief Bence Hoyle welcomed the news. "Traffic enforcement is our most frequently requested service. Our three traffic officers work accidents, do DWI enforcement, and spend significant time in court, so they just make a dent in the requests that come in."
Hoyle said traffic enforcement is a big priority for the town, but whether it can accept the grant is a budgetary decision the commissioners have to make. "I support them either way."
If it seems as if there are fewer police on the beat that there were five, 10 or 15 years ago, you're right. In 1998 there were 2.68 officers per 100 residents. Now there are 1.83 officers per 1,000 residents.
Hoyle said it would take 25 new officers to get back to 1998 levels. The lower per capita ratio reflects increased efficiencies from technology and a general decrease in property crime, some of it due to a major investment in video cameras.
Also at the April 20 meeting, the Board:
Approved a new five-year agreement with the Lake Norman Regional Transportation Commission (LNTC). The mission of the LNTC is to address, work with, and advocate for transportation matters that impact the member jurisdictions of Cornelius, Davidson, Huntersville, and Mooresville.
Ratified changes in job titles suggested by the town staff to more accurately reflect the positions. There were no changes in salaries included in the changes.
Joint meeting of all four town boards: Mooresville, Davidson, Huntersville and Cornelius, will be held on Thursday April 30 at 6:30 pm at Port City Club in Cornelius.