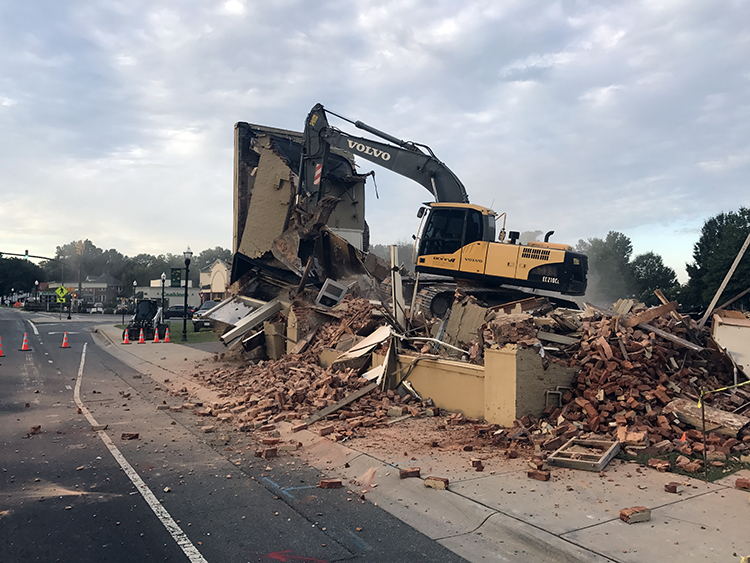 Sept. 27. An awkward 80-year-old ​building near the corner of North Main and Catawba has been demolished to make way for a mixed-use project that will likely include a restaurant. The property, which was once a pawn shop and the home of the Blumengarten florist shop, was purchased by Legacy Pointe Properties for $447,500 in April.
The building was torn down Sunday morning; a few minutes after the last brick fell, church bells uncharacteristically chimed during the middle of 8:30 am services. Many years ago it was the headquarters of locally based Bank of Cornelius. Right next door was Cornelius Savings & Loan Association, making the corner of Catawba and Main the financial capital of Cornelius.
Blumengarten has moved to Hyde Park Storage Suites on Bailey Road..
Legacy Pointe owners, who are known for high-quality commercial projects, could not be reached for comment. But sources said the town will work a land swap with Legacy to include a parking deck in the project which is adjacent to the Veterans Monument at Rotary Plaza.
A parking deck is considered crucial to the new Arts Center which will be built just around the corner to the west of the Police Department.
Legacy Pointe's project will represent millions of dollars of new investment in a quickly revitalizing downtown.
The Legacy Pointe property and building downtown are currently assessed at $225,700, according to Mecklenburg County tax records.