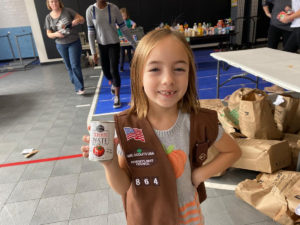 Oct. 6. Girl  Scouts from Cornelius, Huntersville and Davidson will collect food donations Saturday, October 10, from 9 am to 11 am, at the Peninsula Club and at the kiddie park on Harbor Light near the Peninsula Yacht Club.
All food will help, but here are some suggestions:
· Canned meats – tuna, chicken, salmon
· Canned fruits – especially no sugar added or in juice
· Canned pastas – SpaghettiOs, ravioli
· Rice 
· Dry pastas – spaghetti, elbows
Donations go to Loaves & Fishes—and half of all the food collected will feed children.
These Girl Scouts are 2nd- to 6th-graders trying to help the less fortunate.
For more information, email Melissa Hart, Girl Scouts Troop Leader #2303.