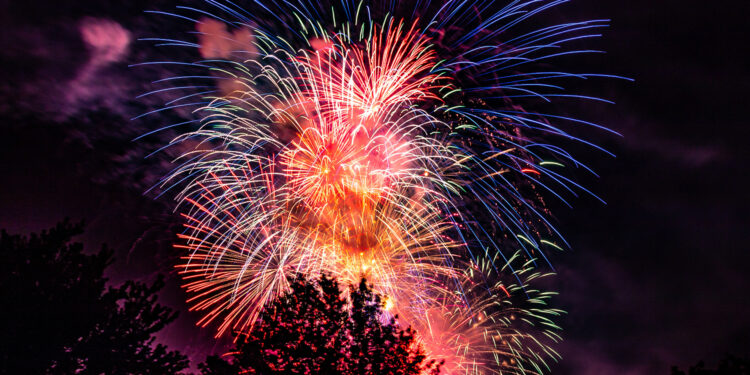 July 2. With the Fourth of July falling on a Tuesday, many people will take a long weekend to celebrate the anniversary of when the Second Continental Congress ratified the Declaration of Independence, announcing the colonies' separation from Great Britain.
Trump National Golf Club Charlotte in Mooresville will put on a display at nightfall on Monday, July 3. Boaters can gather at the cove toward the end of Brawley School Road for the treat.
Also Monday, the Fireworks and Field of Flags opens 6 pm with Field of Flags Recognition Ceremony; 7 pm performing artist; 9:15 pm fireworks. Free and open to the community. Arrive early if you want a spot; bring a blanket or chairs. Grills, pets, sparklers and outside fireworks are not permitted. Lowe's YMCA, 170 Joe V. Knox Ave., Mooresville.
The Peninsula Club is holding a private Fourth of July event with fireworks that can be seen by boaters and the crowds that park along Jetton Road. There's always quite a crowd, starting before sunset.
Birkdale Village
From 10 am – 1 pm on Tuesday, July 4, the celebration will be at Birkdale Village in Huntersville. Have the children bring their bikes and decorate them before the bike parade around Birkdale Commons Parkway. Following the bike parade, there will be a block party in the Grove with activities. In preparation for the bike parade and block party, The Village will be closed to incoming traffic.
Davidson celebrates early
The town will host its Independence Day Patriotic Stroll on Sunday, July 2, with festivities beginning at 5:30 pm. The stroll will embark from South Street onto Main Street and the town green. The Tonez variety band will play 6-8 pm. There are no fireworks.
Mooresville
The Stars and Stripes on Main Parade will kick off 10 am Tuesday, July 4. The parade will feature floats, marching bands, performers and more. Main Street, downtown Mooresville.
Local government, waste collection
Cornelius Town Hall will close on Tuesday, July 4, in observance of the Independence Day holiday. There is no waste / recycling pick-up on Tuesday; there will be a one-day delay the rest of the week.