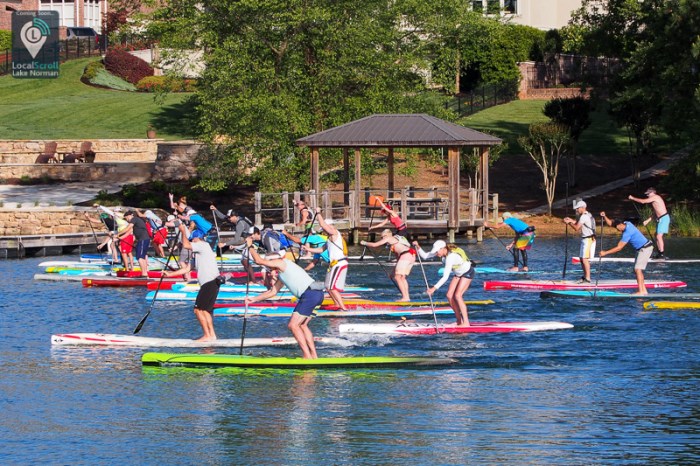 March 22. My Aloha Paddle and Surf, in partnership with three-time NASCAR champion crew chief Ray Evernham, will host the second annual Stand Up for Autism to benefit the IGNITE community center and the Autism Society of North Carolina. The event will be held May 13-14 at Port City Club in Cornelius.
The event will feature paddleboard fitness demos as well as elite and recreational races, which are open to the general public. The race is sanctioned by the World Paddle Association and will be the second regional points race on Lake Norman.
Limited paddleboard rentals will be available on a first-reserve basis.
"It is very exciting to see our local paddlers and the community participating to contribute to this important cause," said Rob Bennett, event director and owner of My Aloha Paddle and Surf.
Stand Up for Autism will support IGNITE, a community center in Davidson for young adults with high-functioning autism or Asperger's Syndrome. IGNITE offers activities, skills training, and educational workshops that foster social, financial, educational, and employment independence for its members. But most importantly, IGNITE offers a social environment in which members can connect with others and experience a sense of community. IGNITE is operated by the Autism Society of North Carolina and was founded in 2012 by NASCAR champion crew chief Ray Evernham, whose son, Ray J, has Asperger's Syndrome.
"We are extremely excited to partner with Rob and his team at My Aloha Paddle and Surf again this year to put on another great event," said Evernham, who is a Lake Norman resident and paddleboard enthusiast. "It's great to see the paddleboarding community come together to support IGNITE in such a meaningful way. I look forward to seeing everyone on the water May 14!"
The event will begin Friday evening with a kickoff party from 6-9 p.m. at Port City Club, which will include food, beverages, music, and a live auction. On Saturday, the pre-race meeting will start at 8 a.m. with the WPA Region 6-sanctioned races to follow. The awards ceremony on the beach will begin at 11 a.m. and be followed by a luau featuring the Island Hula Girls along with island music, food, and fun activities for all ages.
To register for the event, please visit: https://paddleguru.com/races/StandUpforAutismWPAPaddleboardRace2016.
To purchase tickets for the Friday evening Meet and Greet or Saturday Luau visit: http://standupforautismlkn16.eventbrite.com.