May 13. By Dave Yochum. Even with higher gas prices theoretically putting a crimp on demand, it could take days for supplies to return to near-normal levels in and around Charlotte.
Petroleum distributors are telling Lake Norman gas station operators to prepare "to be without fuel for 4-7 days."
Colonial Pipeline has restarted operations but the company said it could take several days for supplies to get back to normal. Colonial has delivered 1 million barrels of product to various delivery points in their system, including Charlotte, Greensboro and Spartanburg.
Major 'hiccup'
It may not be enough.
Internal documents from North Carolina wholesalers suggest supply interruptions going out beyond seven days. Getting the pipeline system "back to full operation will take several weeks following the reopening of Lines 1,2 and 3."
The wholesaler said they expect to see "hiccups in supply" last 14 to 21 days following the Colonial reopening.
For retailers, it means sporadic outages in the days ahead. They expect to "get some gas…then run out again and get some gas and run out again."
Gas whisperer
Oil and gas analyst Tom Kloza, a co-founder of Oil Price Information Service (OPIS), said a ransomware attack shut down the 5,550 mile Colonial Pipeline last week. It delivers 45 percent of fuel to the Southeast and up the East Coast.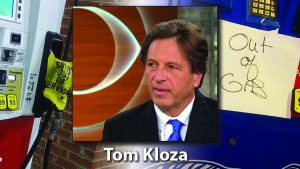 Colonial has a tank farm in Charlotte which supplies local gas stations.
Cooper: State of emergency
North Carolina officials cautioned residents to avoid purchasing gas unless they absolutely need it, and to avoid unnecessary trips until the fuel supply chain returns to normal.
This morning, two-thirds of North Carolina gas stations were out of gas, according to GasBuddy.