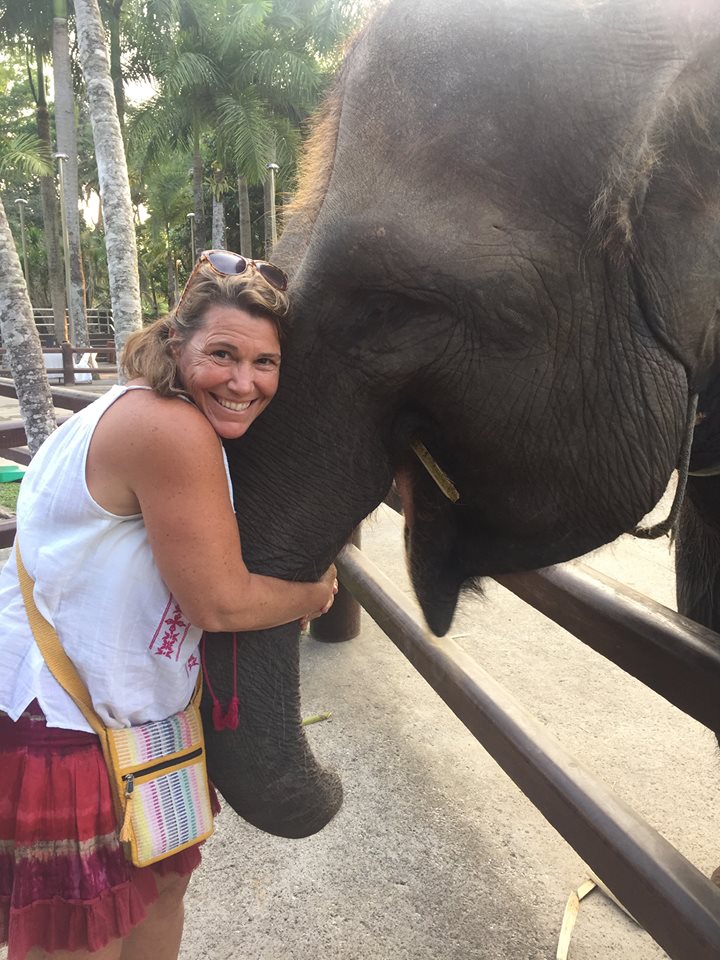 April 2. UPDATE. The Town of Davidson gathered to mourn a Cornelius resident who was struck and killed while crossing a street in the center of Davidson Friday. Janet McFadden, 49, was the owner of Davidson Pet Sitters. Raymer-Kepner Funeral Home is in charge of arrangements.
McFadden was crossing the street in a marked crosswalk walking two dogs when she was hit by a Republic Services garbage truck. She was pronounced deceased at the scene of the accident. One of the dogs died as well.
"Our whole community is extremely saddened by the loss of Janet McFadden," said Davidson Mayor John Woods. "Many of us knew her well. Our thoughts are with her family."
There was a community vigil on the front steps of Davidson Town Hall Saturday evening.
The Davidson Police Department requested the assistance of the Charlotte-Mecklenburg Police Department's Major Crash Investigation Unit. The Charlotte-Mecklenburg Police Department is the investigating agency for this crash event.
Republic driver Jeffrey Wilburn was arrested and charged with misdemeanor death by vehicle.  Speed and alcohol use were not factors for this crash.
"We work hard at being a pedestrian-safe community," said Davidson Police Chief Jeanne Miller. "We will assist the Charlotte-Mecklenburg Police Department with this investigation so we can help prevent such tragedies in the future."
The CMPD Major Crash Investigation Unit responded to the scene and conducted the investigation.  Any person who witnessed the crash or has information about the case is asked to call Detective Sammis 704-336-8862 or Crime Stoppers at 704-334-1600.
"Our core values state that 'Davidson must be a safe place to live, work, and raise a family, so the town will work in partnership with the community to protect lives,'" said Woods. "We will continue our push for enhanced pedestrian safety all over town."
Lake Norman Area Mental Health Resources
Carolinas HealthCare System Behavioral Health, Davidson
Website:  http://www.carolinashealthcare.org/behavioral-health
Phone: 704-801-9200
Along with the Mindy Ellen Levine Behavioral Health Hospital, there is an outpatient clinic that serves children, adolescents, and adults. Call to schedule an appointment, phone assessment and referral.
Mental Health America of Central Carolinas 
A United Way member agency, MHA provides information and referral, and MHA's certified staff delivers evidenced-based trainings in QPR (Question, Persuade, and Refer) suicide prevention, Mental Health First Aid – the Adult and Youth versions, De-escalation, Family Partner Certification, and more.
Hours of Operation: Business hours, Monday-Friday
Website:  Mental Health Association of Central Carolinas
Phone:  704-365-3454
Mecklenburg County Mobile Crisis Team
The Mecklenburg County Mobile Crisis Team is comprised of a group of clinicians with experience in mental health, substance abuse, intellectual disabilities and situational crises. Consumers are not billed for services. Funding comes from grants, IPRS funds, and Medicaid.
Hours of Operation: 24/7/365
Website:  Mecklenburg County Mobile Crisis Team
Phone: 704-566-3410 – press option 1 to speak to a live counselor
A family business
McFadden's husband, Brian Freeman, said that Davidson Pet Sitters would continue to operate. He wrote the following on www.DavidsonPetSitters.com:  "As you may have heard, our founder, and my beautiful wife, Janet McFadden passed away Friday in a tragic traffic accident. While my family, I, and all of our DPS associates work through this, we just wanted to let people know that we are still carrying on with business as usual. There may be some adjustments in which sitter you may see, but our intent is to continue to provide the level of service Janet worked so hard all of these years to build. For the short term we'd appreciate it if you emailed us with your request(s) instead of leaving a voicemail. Please send any and all questions, concerns, and condolences to petsitdavidson@gmail.com. We thank you all for your prayers and thoughts. Check back here or on Facebook for future updates."