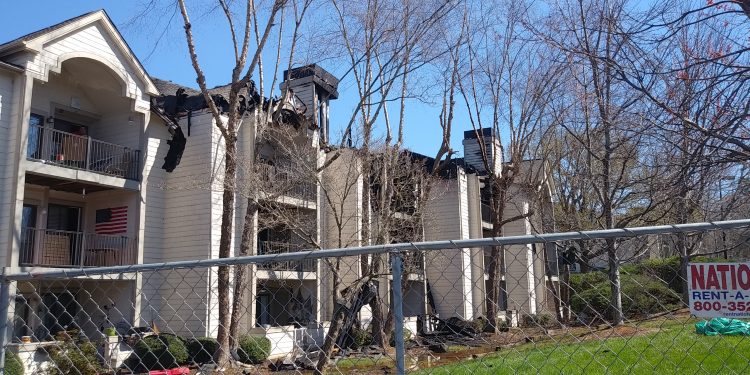 March 28. A "Community Donation Day" for the victims of the devastating Admiral's Quarters fire will be held Saturday from noon to 2 pm in the clubhouse. The complex, at the foot of Westmoreland on West Catawba, is rallying around the victims, some of whom have lost everything they owned.
Others have no renter's insurance according to Wendy Jordan, who is organizing the drive. Needed items include furniture, toiletries, cleaning items, groceries, toddler rain boots and socks, mattresses and kitchen items.
Gift cards can  be mailed to Jordan, c/o Fire Victim Coordinator, at PO Box 573, Cornelius NC 28031.
Jordan, who was Mrs. North Carolina in 2017, said no one imagines they will wake up one day and their entire dwelling will burn down.
She has also started a gofundme page for the victims. Jordan has lived in the complex for six years.
The fire was reported about 4:30 am on Monday March 18 burned off much of the third floor of the building which contained 18 units. There were no fire sprinklers in this particular building. When it is rebuilt, building codes will require them.
"We live in too generous a community to not help," Jordan said, explaining that the Red Cross can only put people up for a few days.
Sources in the Fire Department said this building was approved just prior to ordinances being enacted back in the 1980s requiring sprinkler systems in multi-unit buildings.