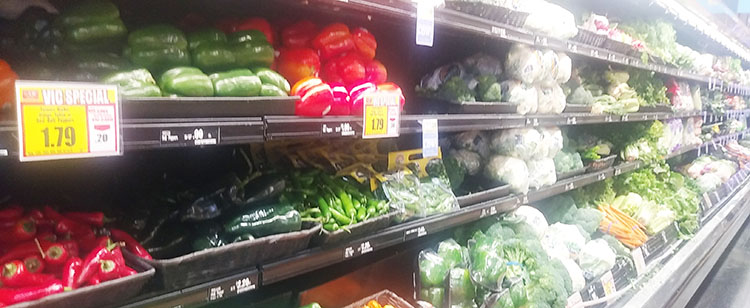 March 20. Traffic during a midday drive through town was definitely lighter than most Fridays but specific businesses still seemed busy.
Grocery stores are obviously still packed and the search for toilet paper continues. Most grocery
stores appeared to be close to fully restocked, although meats can be sparse.
Harris Teeter has shut down its self-serve food bars until further notice, but the Special Events food station is still up and running.
Gold's Gym remains closed. Dr. Crandall at Artisan Dental Care has closed based on guidance from the American Dental Association. Birkdale Village is almost completely closed down; there's parking everywhere.
Alton Updike, owner of Alton's Kitchen & Cocktails, said business is too far down to say: "Just let people know we are doing takeout and curbside. We may need to start looking at delivery and family meals this week."
Some area restaurants also seem to be doing better-than-expected business. Anything with a drive-thru—including Tenders, Chick-fil-A—looked busy during dinner Thursday and lunch Friday. Mandolino's in Davidson was quiet on Thursday night but had 10-15 orders ready for pickup.
All this, and kids are swimming off Spinaker's Reach Drive as the CMS furlough continues.
"One week in and I've run out reality dating shows to watch," says former NC Rep. Charles Jeter. "I've started watching  "Keeping up with the Kardashians" and now I'm not sure our species deserves to make it out of this pandemic," he said in the Jetergram.
On a serious note, the executive director of public affairs at CMS said the following: "Take care of each other out there. Buy gift cards to your favorite local restaurant. Check in on your neighbors to make sure they have everything they need."
​CMS is asking state legislators to help then cope with COVID-19:
++A waiver of the minimum number of days/hours of instruction for the 2019-2020 school year as required by the state school calendar laws​
++A waiver of End-of-Course and End-of-Grade state tests for the 2019-2020 school year
++The authority to award emergency leave pay to all public school employees who are unable to work because their job duties cannot be performed remotely and reasonable alternate work is not feasible or productive
++The authority to award emergency leave pay to all public school employees who are sick due to COVID-19 or who are caring for a dependent with COVID-19.
Random acts of kindness are awesome.
The parking lot at Home Depot and Lowe's looks like it would on a weekend—with many people presumably planning out home projects. Home Depot had a sign stating they were out of pine mulch bales. Mulching seems to be the activity of choice to stave off the doldrums—mulch piles and pine bales were dumped on a multitude of driveways around Cornelius.
Outdoor activity seems to be the entertainment option of choice for a lot of people. Yoga and other workout groups congregated frequently this week at Robbins Park.
Bike riders, walkers and runners are out. Join them if you can, but maintain that social distance.
Spring clean-up can wait 😉
Republic Services will suspend yard waste collection beginning this coming Monday. Republic will continue to collect garbage and recycling as scheduled. As an additional safety precaution, residents are asked to double bag any contaminated or potentially contaminated waste and leave all waste in a garbage or recycling cart. Items left outside of the carts will not be collected.
Special events are mostly cancelled. Here are more:
A Morning With the Easter Bunny at the Cornelius Arts Center on April 3 is canceled
Hop Into Spring at Robbins Park on April 4 is canceled
Hooked on Cornelius at Robbins Park on April 25 is canceled
Earth Jam 2020 at Robbins Park on April 25 is canceled
Lake Norman Bike Expo at Davidson Town Green on May 2 is canceled
The COVID-19 virus poses an economic risk unlike anything most of us have ever seen.
"The hammer is going to fall first and hardest on low-wage workers in restaurant, retail, tourism, and other recreation jobs," said Patrick McHugh, Senior Economic Analyst with the North Carolina Budget and Tax Center.
Many economists now see a recession as a virtual certainty with impacts extending beyond the consumer service workers who take the first hit.
The Lake Norman Chamber has started Shop Lake Norman. Retailers can showcase gift cards and gift certificates that consumers can purchase online or by phone.