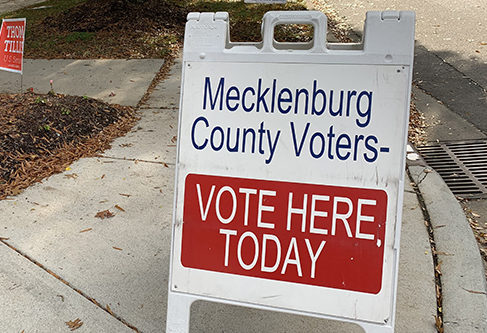 Oct. 30. All 33 Early Voting locations are open in Mecklenburg County today from 8 am to 7:30 pm. Tomorrow, the polls are open from 8 am to 3 pm. Polls are closed Nov. 1 and Nov. 2. Election Day is Tuesday; polls are open from 6:30 am to 7:30 pm.
Cornelius Town Hall is the No. 1 Early Voting location county-wide—but not by much. Carmel Commons Shopping Center has seen 13,248 voters. Bojangles Entertainment Complex is chicken feed: 11,127 voters. A total of 324,258 Mecklenburg voters have cast their ballots so far. To examine precinct by precinct totals, click here.
For the full list of Early Voting locations click here.
Election Day Nov. 3
There are four polling places on Election Day: Community in Church Lutheran Church, 7621 Norman Island Drive; Jetton Park, 19000 Jetton Road; Bethel Presbyterian Church, 19920 Bethel Church Road, and Cornelius Town Hall, 21455 Catawba Ave.
Vote between 6:30 am and 7:30 pm. The National Weather Service says the weather Tuesday will be perfect: Sunny with a high near 62.