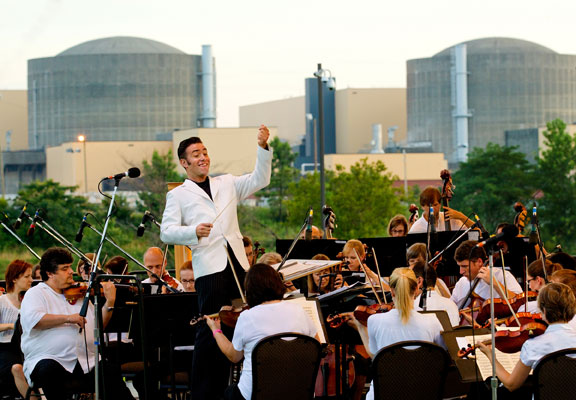 So, you go to the symphony, except it's on the lawn at your local nuclear power plant. Indeed, thousands of people will make their way to McGuire Nuclear Station's Energy Explorium tomorrow evening for a Lake Norman tradition: The Charlotte Symphony on the lawn in front of the lake. And the weather won't be as hot.
The symphony will perform its Summer Spirit series which includes classics by Beethoven, Tchaikovsky and others, as well as popular movie scores from Harry Potter, Superman, Batman and The Wizard of Oz. The program starts at 8:15 pm. Come by boat or by car out Hwy. 73 a couple of miles east of West Catawba.
Like other nuclear plants, McGuire Nuclear Station hosts several community events throughout the year, but it is the only plant in the nation to hold an event of this magnitude. "Not only is the event unique because of the large crowd it attracts, but the event is a testament of how safe and secure people feel about operations at McGuire Nuclear Station," Duke said in a press release.
The National Weather Service says the weather will be good. There's only a 30 percent chance of showers and thunderstorms, mainly after 3 pm. The high will be near 85 with a nice breeze. New rainfall amounts of less than a tenth of an inch, unless there's a thunderstorm.