March 19. By Dave Yochum. The fire Monday morning in the Admiral's Quarters condominium complex on Nautical Drive could have been much worse.
Fire officials say it happened at a difficult time—about 4:20 in the morning when  residents were asleep. But a quick-thinking resident, Billy Mallette, began pounding on doors as fire quickly spread.
The apparently started on a balcony according to fire officials on the scene yesterday afternoon. Crews came back to the scene to survey damage around 2:30 pm. It is fenced off with limited access. Fire damage
Cornelius Fire Chief Neal Smith said about three dozen firefighters were on the scene. The blaze was attacked from both sides of the 18-unit, three-story structure, with hand work focused on the parking lot side.
Smith confirmed that neither residents nor firefighters were injured.
For roommates Atlee Northmore, the early-morning wake-up call was frightening. He ran outside as fast as he could, grabbing a few belongings. Other neighbors stood outside barefoot, in shock.
"We were woken up around 4:30 by someone banging on our door. No one was there when we opened up, but by then we could hear the sirens and smell the smoke," Northmore said. Most likely it was Mallette who pounded on their door.
At first there were maybe one or two fire trucks, but most of the people outside didn't have any concept of what the fire was doing to the building, Northmore said.
Meanwhile, the other side of the building was engulfed in flames.
"We feel so fortunate everyone is safe and the wonderful firefighters were able to contain and extinguish the fire," Northmore said.
For Alyette Keldie, it was a miracle she and her toddler were able to flee safely. Hours after the fire she was sitting alone in her SUV, surrounded by stacks of toys, quilts, FisherPrice furnishings and a child's play sink on the pavement. It's about all she has left.
Residents received cash for hotel rooms from the Red Cross.
The condominium, except for the units on the opposite ends could be a total loss. Oddly enough, this building was planned and approved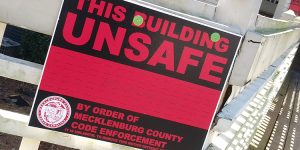 more than 25 years ago when fire sprinklers were not required. Other buildings in Admiral's Quarters are sprinklered.
Insurance can get sticky. CC&Rs outline common vs individual unit ownership and insurance requirements. There are likely 18 different unit-owner policies, some renter policies and a master policy.
Chief Smith said because fire destroys so much, it can be difficult to determine the exact cause of a fire. Nevertheless, the fire is under investigation. The building is enclosed in a chain-link fence and entrance is restricted. Smith said fire-damaged would will be torn away, but not any materials that are central to the investigation.
On Monday afternoon, residents were pulling what they could from their units. There was confusion around when the building would be permanently cordoned off before full-scale demolition begins, and some residents were upset.
If the building is torn down and rebuilt it must be sprinklered.
The Fire Marshal's office did not return phone calls.
There's no telling when reconstruction will occur in a matter like this, Smith said.
While there's no word on what caused this fire, Smith said balcony fires are not uncommon. Often, cigarettes are put out in planters comprised of peat moss and compost. Unwatered during the winter, they can ignite hours later.
In a fire on Henderson Road last week, a planter smoldered and burned through the balcony deck, crashing to the floor below. The fire spread to the roof and caused extensive damage.