Dec. 16. A fire earlier today caused considerable damage to a single-family home at 19806 Madison Village Drive. The occupants were able to get out, according to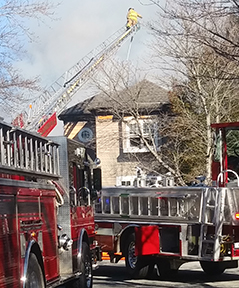 Cornelius-Lemley Fire Chief Neal Smith.
According to tax records, the owner of the two-story home is Eric Gillon. He lives in the home with his wife, Joy,  and a young child.
Dozens of firefighters were on scene from Cornelius-Lemley Volunteer Fire Dept., as well as fire departments from Davidson, Huntersville and Mt. Mourne in Iredell County. Police and Medic were also out in force. Madison Village is off Bethel Church Road, between Bethel Presbyterian and Walter Henderson.
A large portion of the house was destroyed along with a car. The family dogs were rescued.
The fire, which started before lunch time, was under control within about a half hour. The fire was intense enough to melt the siding on the adjacent home.