Feb. 4. The NC Dept. of Health & Human Services reported 5,495 new cases of the coronavirus, up from an adjusted case count of 4,167 yesterday. Some tests performed in December and January were not previously reported, resulting in a spike in yesterdays data.
Today's total of 150 new deaths was a record.
Cooper stimulus plan
At a 3 pm press conference today, Gov. Cooper called for "immediate" $2,500 bonuses for North Carolina teachers and principals, as well as raising the maximum unemployment benefit from $350 per week to $500 per week.
He also called for 35,000 new internet hotspots across the state.
The governor asked the legislature to take $695 million from the unreserved state General Fund balance to address immediate needs resulting from COVID-19.
"People need help now," he said.
Details
State funds
—$50 million for continued hazard duty pay for state employees on the frontlines of COVID-19, especially law enforcement and corrections personnel who face COVID-19 every day.
—$64.5 million for the replenishment of the North Carolina State Health Plan, which has incurred costs responding to COVID-19.
—$468 million for bonuses for educators and school personnel in public K-12 schools, community colleges and the university system. Educators have stepped up in extraordinary ways during the pandemic but were not a part of the raises approved in the last biennium for state employees.
—$30 million to extend high-speed internet to all corners of the state and other urgent connectivity initiatives, such as IT infrastructure, security for community colleges and enhancement of 35,000 hotspots used for education.
—$37 million to support small businesses that have suffered during the pandemic and often don't have large cash reserves, including small business counselling, marketing for tourism and hospitality, ReTOOLNC program for historically underutilized businesses (HUBs), and the business loan program at Golden L.E.A.F.
Federal funds
—Approximately $2 billion for emergency assistance for public and private K-12 schools and higher education institutions.
—$336 million for childcare and development block grants.
—Approximately $700 million for access to vaccines and testing, tracing and prevention measures to slow the spread of the virus.
—$546 million for emergency rental assistance, which will build on North Carolina's current work.
—$258 million for Highway Infrastructure and $65 million for airports.
—$47 million for Community Mental Health Services.
Funding for food assistance programs, such as SNAP and school nutrition..
Hospitalizations
Hospitalizations due to COVID-19 fell to 2,630 today, the lowest number in weeks.
Median: One week vs one month
In spite of yesterday's one-time increase in new cases, the median number during the past week is still down. Based on data from Johns Hopkins University, the volume of new cases during the past seven days is down 5 percent compared to the volume over the past 31 days.
We used medians to compare: 6,490 new cases per day over the past month, vs 6,168 new cases over the past week to arrive at a 4.96 percent decline.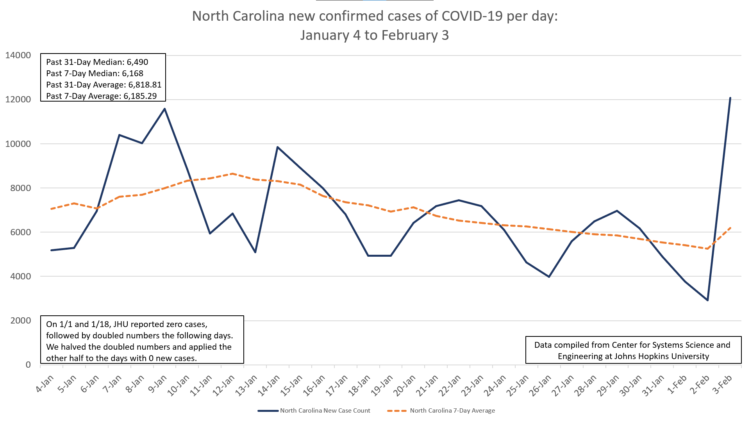 Deaths
There were 150 new deaths statewide attributable to the coronavirus, 16 more than yesterday. There have been a total of 9,728 deaths due to the coronavirus since the outbreak began in North Carolina 11 months ago.
There were one new death in Davidson.
There have been a total of 783 COVID-related deaths in Mecklenburg since the beginning of the outbreak.
Testing
The statewide positive test rate is at 7.2 percent, while the positive test rate in Mecklenburg was 11.1 percent in today's report.
North Mecklenburg
Cornelius: 9 new cases, 2,260 cumulative; 21 deaths total.
Davidson: 18 new cases, 1,260 cumulative; 14 deaths total.
Huntersville: 29 new cases, 4,634 cumulative; 43 deaths total.