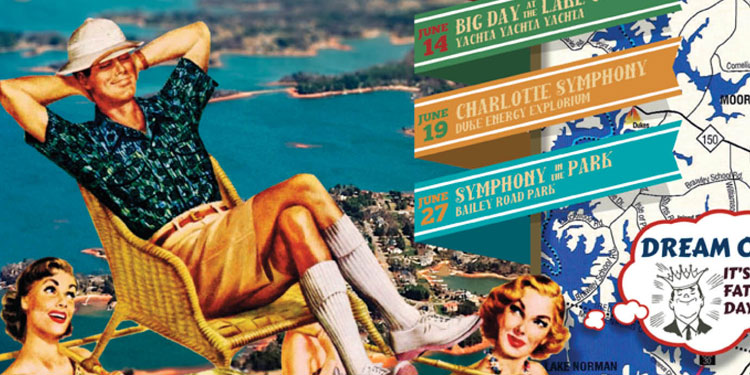 Whether it's their God, wife or family, the most successful dads put someone else first. "The best thing a Dad can do is love his wife and work toward building a healthy marriage," says Rev. Farrell Lemings, of Grace Covenant Church, one of the largest churches in Cornelius and North Mecklenburg. "You will never have a healthy family without a healthy marriage," the lead pastor says.
"A great dad is the one who leads with integrity and loves unconditionally.  He is the one who creates time in his schedule to just be with his children. A great dad teaches his children about the love of God, responsibility and work ethic. He does not just speak words of direction but models the life he wants his children to live," Lemings says.
He gives this example: A little boy, frightened by a thunderous lightning storm, called out one dark night. "Daddy, come. I'm scared."
"Son," the father said, "God loves you and he'll take care of you."
"I know God loves me. But right now I want somebody who has a skin on."
Dads have a big job to do. And it takes a thick skin.
Lemings shares another story: A young father-to-be was pacing back and forth, wringing his hands in the hospital corridor while his wife was in labor.  He was tied up in knots of fear and anxiety, and beads of perspiration revealed the agony of his suffering.  Finally, at 4 a.m. a nurse popped out of a door and said, "Well, sir, you have a little girl."  He dropped his hands, became limp, and said, "Oh, how I thank God it's a girl.  She'll never have to go through the awful agony I've had tonight!"
LOL. Being a dad has its lighter moments too. We asked a few dads in Cornelius to tell us about special Father's Day insights and gifts they've received. Not surprisingly, many of the responses revolved around special activities or events with their sons or daughters.
---
His Dad was bigger than life
"My Dad (Big Woody) was bigger than life.  Watching his relationship with my children every Father's Day after they were born was truly a blessing.  My daughter and son looked up to my Dad as a loving super hero and their fun-loving buddy.  That always put a smile on my face which always gave me a special proud feeling on that day.  I thank God for his life and what he meant to our family every day but especially on Father's Day."
Woody Washam
Father of two
Lives on Chapel Point Lane
---
Picture this
"When our first daughter, Emily, arrived in 2011 and I was able to officially celebrate Father's Day for the first time, I remember thinking, 'Not so sure why they call this Father's Day – everybody just wants their picture taken with you!'.  Thankfully, folks continue to want their pictures taken with these two dynamos instead of their 'old man' & Kerri and I are blessed every day by Emily and Caroline."
Joshua Dobi
Father of two girls
Lives on Players Ridge Drive
---
Nailing ownership and responsibility
"Every Father's Day, our kids had the challenge of what they could could give me. I decided a task would be better. Our house had a large wooden deck facing the lake. Every year the nails would loosen and some would pop. Thus the annual 'Pounding of the Nails' came into being.
On Father's Day each of our kids were supplied with a hammer to pound all the deck nails that had popped up during the winter—even if it was a toy plastic hammer. It wasn't fun, and it wasn't quick, but it got done before we did anything else. And I felt loved.
From my perspective, it did give them some sense of ownership and responsibly. Even though it was Dad's place, they felt connected with their contribution."
Mike Miltich
Father of five
Lives on Nantz Road
---
First Fathers' Day
"I believe that my most memorable Fathers Day would have to be my very first Father's day as a Dad, a few months after my son Tommy was born.  It gave a whole different meaning to father's day for me."
Jim Butler
Father of two
Lives in the Harborside Townhome community
---
The Natural Order
"The best thing about Father's Day: It is is the one day of the year that daddy gets to come first, right after the kids, your wife and your pets."
John R. "Mac" McAlpine V
Father of two
Lives on BlueStone Harbor
---
Born on Father's Day
"My son, Parker, arrived in this world on June 5, 2010. That he was born and with me on Father's Day is one of my fondest memories.
When he was 3, my brother and I took Parker camping and fishing for the first time. Parker was very excited leading up to that day and was all that he discussed with everyone he met…that he was going camping and fishing with his Uncle Darryl and Daddy. It was a joy to see him playing in the creek, in the weeds, gathering sticks, helping set up camp, and fishing in the pond as I also did as a little boy. He jumped right into the fun of fishing immediately by putting his own worm on the hook and casting his line out into the pond. When he saw the bobber bobbing he knew there was a fish on and started to reel in his first fish, a smallmouth bass. The excitement in his voice will forever be in my memories.
As the night wound down, we settled into making a fire, cooking hamburgs, and s'mores. We told stories around the campfire and watched a shooting star. As we were sitting in our camp chairs, Parker in my lap, he turned to me and said, 'Daddy, I had a fun day. I want to go to sleep.' He thanked his Uncle for a wonderful day and gave him a hug and kiss goodnight. I put him down in bed and laid next to him, he gave me a kiss goodnight, and said thank you as he quickly fell asleep."
Robert Rickard
Father of one
Lives on Vintage Oak Court
---
A natural: Father's Day and baseball
"My special Fathers day memory takes me back to the early 70's when my dad took to me to my very first Major League baseball game: The Mets at Shea Stadium. To this day I can still see us walking through the dark tunnels to get to that beautiful green baseball field with all the vivid sounds and smells, easily the most special memory of my childhood. It was the start of my lifetime love affair with sports. Fathers and sons and sports make for great times."
Pat Jackson
One daughter
Lives on Victoria Bay