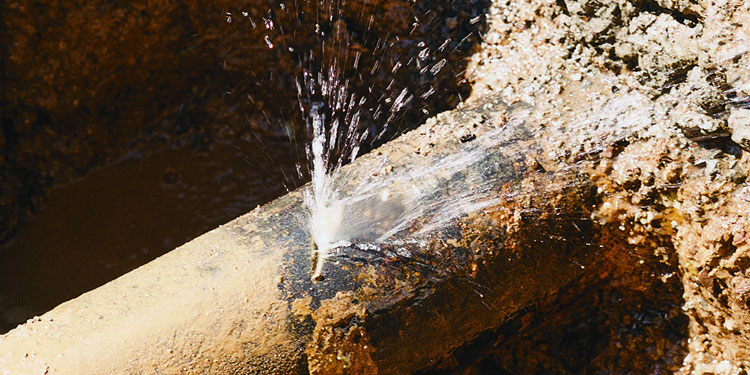 By Dave Vieser. As underground water lines installed during the building boom of the 1980s and 1990s begin to age and fail, homeowners may be in for a shock: The costs for repair could be their responsibility. Much depends upon whether a home, condo or townhome is metered for water and precisely where the pipe breaks.
Charlotte Water maintains what is in the meter box and between the box and the street, according to utility spokesman Cam Coley. "However, the tailpiece leaving the meter box which runs under the lawn and sidewalk into the home is considered private plumbing and is the homeowner's responsibility."
That means if the break in the line is between the meter and the home, the property owner will have to pay for the repair, which could amount to several hundred dollars, depending upon the extent of the damage. Moreover, standard homeowner insurance policies do not cover damage to these lines.
"We've had at least two incidents within the past several months in our neighborhood where water pipes broke and it turned out to be the homeowner's responsibility," said Penny Stringer, a member of the Harborside Townhomes HOA. "In both cases the owners were really caught by surprise."
Coley says the water lines in that part of town were built around 1998, at a time when many of the condo/townhomes were constructed near Lake Norman. He also noted that each situation is different. "Right-of-ways, tailpieces, easements, and other situations can vary greatly, and some condos have a master meter to serve properties.  We'd be happy to take a look and provide input when a customer isn't sure whether they might face a private plumbing repair or a public repair should their water line break."
Coley says water customers should simply dial 311 to request such an inspection.
Special insurance which would provide up to $10,000 repair coverage is available from companies such as American Water Resources based in New Jersey. The premium is less than $100 a year.
"Until a homeowner experiences a service line problem, many are unaware that they, not the city utility, are responsible for the maintenance of the water lines that service their home," said Malcolm Conner, American Water Resources president. "Since repairs to these pipes are not covered by most homeowners' insurance policies, the job of finding, hiring and paying someone to fix a service line problem falls solely on the homeowner."
As to what causes a failure or break in water service lines, age is a major factor, along with blockages due to tree roots and shifting soil resulting from weather and temperature changes.