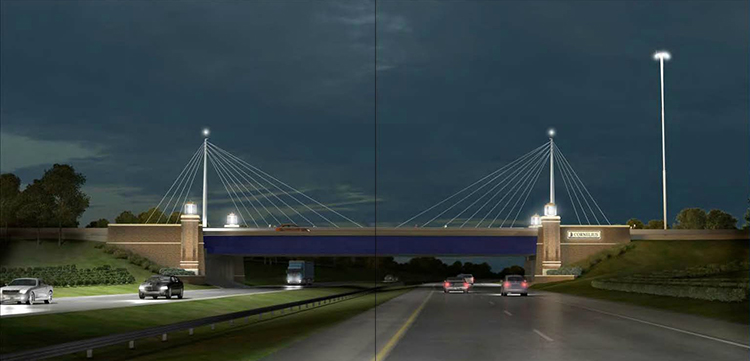 July 6. By Dave Vieser. In late 2015, then Mayor Chuck Travis announced that Gov. Pat McCrory would be coming to Cornelius in 2016 to dedicate the new nautically themed Exit 28 bridge. McCrory bailed out as soon as the reviews were in: The bridge was a sinking ship when it comes to public art.
Now plans for additional "aesthetic" work at the busy highway intersection have also been shelved. Specifically, a proposed allotment of $1.39 million in the town's 2019 budget was slashed to just $200,000, with some of the "found" money used for firefighter salary increases.
Town Manager Andrew Grant says priorities have changed over the past several years.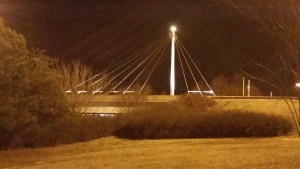 "The original proposed budget amount of $1.39 million was established by a previous Town Board with the intent of providing both hardscape and significant landscape features," Grant said. "During the recent budget process, the Town Board and Town staff discussed reducing the amount in light of the significant number of high-priority capital projects coming our way over the next five years, including numerous transportation projects that will help alleviate congestion."
As a result, the reduced $200,000 will allow the town to provide what Grant called a "modest" landscaping improvement at the interchange. Those improvements already completed several years ago have been the butt of many negative comments, with the Charlotte Observer citing the too-short masts and sails as a bad example of public art.
Commissioner Dave Gilroy, who served on the board when the project was conceived, said the $200,000 will be spread out over a number of years.
Despite its failure as public art, town officials say that the Diverging Diamond Interchange itself has reduced the number and severity of accidents. In the pre-DDI years, left turns were employed to enter the interstate, which by their very nature caused a higher number of accidents and injuries.