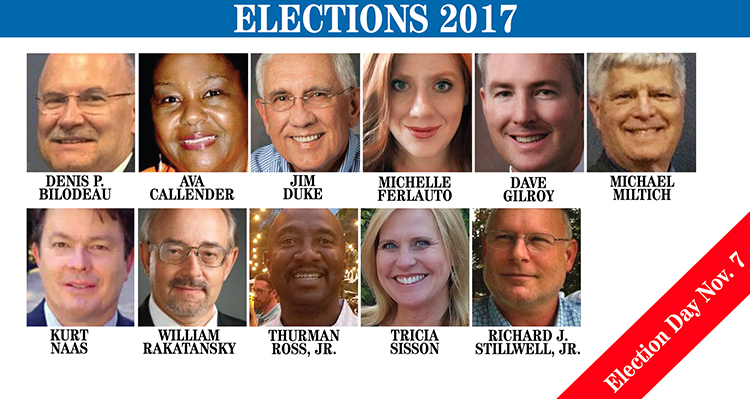 By Marco Wertheimer. The candidate pool for the upcoming Cornelius Town Board election is set. With a record 11 candidates vying for five spots on the town board, the election Nov. 7 looks like it will be a horse race.
There were 10 candidates in 2013, a record at the time.
Among the more remarkable traits of the new candidates is their relative inexperience in the political arena, with one exception: William Rakatansky served on the Town Board from 1993 to 1995.
Despite their different backgrounds, however, all 11 have expressed opposition to the current plan for toll lanes on I-77.
During the 2015 elections, pro-toll candidates were ousted in surrounding towns. In Cornelius, members of the Town Board had already come out strongly against the tolls.
Defying his board and the business community, Mayor Chuck Travis went to Raleigh last year in support of the tolls, and was soon censured by his board.
Cornelius Today broke the news back in December that Commissioner Woody Washam would run for mayor. Soon after Washam filed to run in July, Travis made it official and said he would not file for re-election. Washam is running unopposed.
The candidates are: Denis P. Bilodeau, Ava Callender, Jim Duke, Michelle Ferlauto, Dave Gilroy, Michael Miltich, Kurt Naas, William Rakatanksy, Thurman Ross, Jr., Tricia Sisson and Richard J. Stilwell, Jr.
Early voting begins Oct. 19 at Town Hall in the Community Room on the west side of the first floor.
VOTE
First Absentee Ballot Availability: Oct. 6
Early Voting Begins: Oct. 19
Early Voting Ends: Nov. 3

Cornelius Today's Candidate Forum & Old Fashioned BBQ at Town Hall at lunchtime Oct. 6.