Feb. 17. By Dave Yochum. Imagine being a newspaper delivery boy on a bike in downtown Cornelius 75 years ago. The roads are dirt and there is neither a Cain Center for the Arts nor Lake Norman, not even in anyone's dreams.
The delivery boy would be Ed Bost, 89, who gave a $200,000 Bosendorfer grand piano to the Cain Center for the Arts. The magnificent instrument took center stage last month when noted jazz musician Christian Sands sized up the piano and adjusted his playlist to show off the Bosendorfer's capabilities.
Besides being beautiful in tone, power and action, it has more than 88 keys—nine more, in fact, that extend the bass range.
A little history
Composer Franz Liszt, famous for his passionate play, became Bosendorfer's first artist endorser and the owner of several Bosendorfer pianos. Composers like Bartok, Busoni, Mussorgsky and Ravel wrote specifically for Bosendorfers.
Now Cornelius has one, thanks to a man who up until recently rode his bike along the North Mecklenburg Christmas parade up and down Main Street from Davidson to Antiquity traversing the same streets he rode as a paperboy.
The landmark home he lives in now wasn't on his route—Clyde Caldwell had it—but decades later he and his late wife Claudia would buy it, rent it out and then move into the stately mansion at the corner of Washam Potts and South Main.
It's the one with the life-size deer on the lawn.
"We always had a piano in our home," Bost, one of five children, recalled recently. The family lived across Catawba Avenue from Cornelius Presbyterian where they went to church.
The piano man
A Methodist now, he's given two pianos to Mt. Zion United Methodist Church, across South Main Street and Zion Avenue from his home.
Business career
Bost worked for Blythe Bros. Asphalt where he excelled in the accounting department, to the extent that his boss urged him to take the CPA exam in South Carolina where a four-year degree wasn't required. Bost passed with flying colors.
When the opportunity came to acquire and run Blythe's asphalt company in Puerto Rico, Bost took it and turned the company around, selling the sizable operation for a good price.
Tithing
He tithed the proceeds and established the Bost Foundation, a steady behind-the-scenes philanthropy that Bost runs to this day.
Bost himself only "plays around with the piano" for friends and family. Church hymns are his favorite music.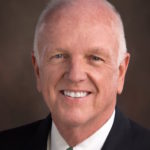 "Playing the new Bosendorfer piano played in the almost perfect acoustical setting of the Cain Center was an indescribable thrill of my musical experience of nearly 60 years.  Its perfect touch is complemented by a sound so rich and precise." —Woody Washam, the Cornelius mayor, has played the organ and piano at Mt. Zion UMC since 1966