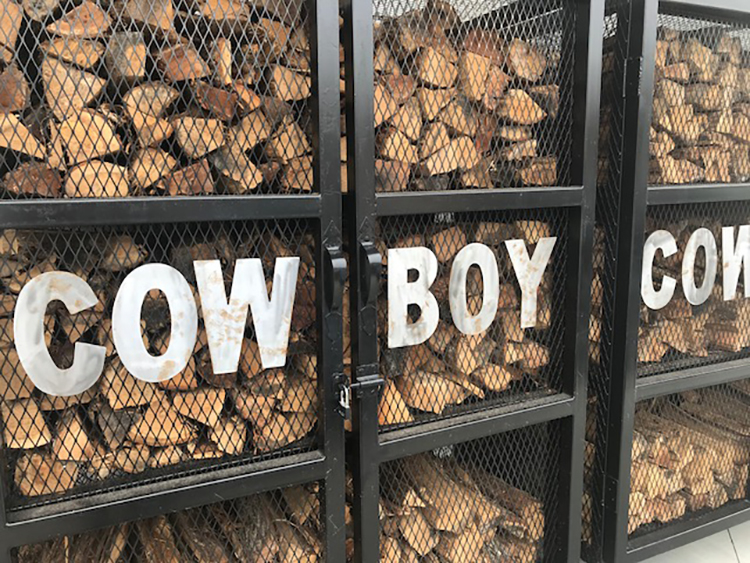 Lake Norman foodies have a new hotspot: Cowboy Steak Chicken & Ribs opened its doors in March.
The restaurant's atmosphere mixes a retro diner vibe with a traditional BBQ roadhouse feel. Expect cloth napkins, signature BBQ sauces (all made fresh on site and rotated out every two weeks), hand-spun milkshakes and super-friendly service.
Cowboy's menu offers what diners would expect, including Rotisserie Chicken, Beef Brisket, Bone in Beef Rib, Filet Mignon and Ribeye Steak as well as some unexpected twists: Smokey BBQ Brisket Tacos, Rotisserie Chicken Tacos, BLT Salad, Southwestern Chopped Salad and more.
Everything is extremely fresh and flavorful; Cowboy doesn't have freezers because it is committed to preparing food at its peak.
As diners enter, they line up in front of an open kitchen where they are greeted by the smell of smoked meat and freshly baked bread. Coolers display Southern staples (Stewart's Cream Soda, Cheerwine, and Nehi Peach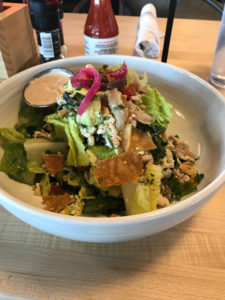 soda). Orders are placed at a checkout stand and then it's on to the beverage center.
Here diners can choose from sweet tea (for the truly Southern), unsweetened tea, fountain soft drinks, and an assortment of wine and beer, both on tap and in bottles. One of the top sommeliers in the area hand selected the wine choices, and the draft beer choices are all from local breweries: Eleven Lakes, Primal Lager, Ass Clown Pilsner, D9 Hakuna Matata, and OMB Copper.
Finally, guests settle into community style seating at both high and low tables, which encourages interaction and adds to the laid-back vibe. Within minutes a server delivers their food. Need refills or dessert? The server can help with those too.
With warmer weather on the way, diners can also choose to eat on the large patio, which features corn hole and a fire pit.
And if guests want to take something home for later, the Pickup Counter makes it easy to grab a freshly baked pecan or apple pie, chocolate chunk cookies, French baguette, or French loaf.
Cowboy, located at 9515 Bailey Road in Cornelius, is open Monday through Saturday, 11am-9pm. The restaurant is owned and operated by Joe Douglas, the owner of 131 Main.
Get out!
After what seems like endless weeks winter, it's about time to enjoy some of the outdoor dining venues in Cornelius.
At Port City Club, their outdoor deck, complete with new cushions, is open seven days a week. Open seven days a week from 11 am on.
Meanwhile, Hello Sailor has opened their 3,500 square foot tiered lakeside deck. As with Port City, they are also open seven days a week, starting at 5 on Mondays, and 11 am Tuesday-Sundays.
If Irish/English fare is your preference, try Harp and Crown at 19930 West Catawba Avenue. They're open seven days a week from 11 am, except Sundays when they open at 10 am.
Alton's Kitchen & Cocktails has plenty of outdoor seating with good-looking plantings and romantic ​string lights. The comfortable setting is always social. Open seven days a week, from 10 a.m. weekends, and 11:30 a.m. weekdays.