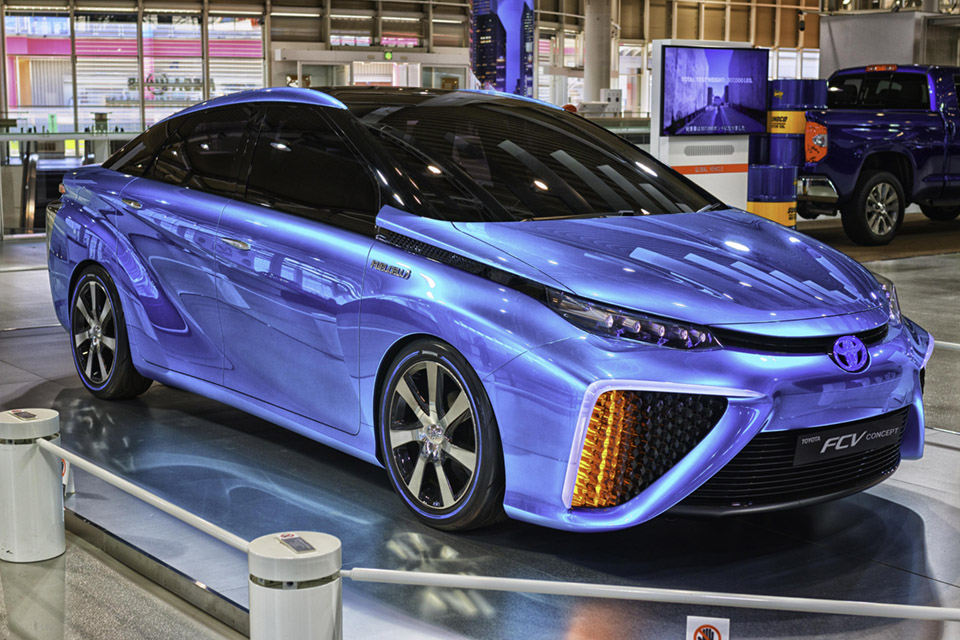 Is it true that fuel cell cars are finally available for mainstream drivers in the U.S.? — Jack Mixson, Wilmington, DE
For years, green car enthusiasts have been heralding the dawn of a new era of pollution-free driving powered by fuel cells, which combine readily available hydrogen with oxygen to fire up the engine. NASA created the first commercial grade fuel cells in the 1960s to power satellites and space capsules, and automakers have been talking up their potential for use in cars and trucks ever since.
But the idea has never gotten beyond the prototype stage, due mostly to the lack of any refueling infrastructure. After all, drivers are used to being able to refill their tanks on almost every corner, while the new generation of electric and plug-in hybrid and electric vehicles (EVs) can be recharged from any electrical outlet.
But FCVs (fuel cell vehicles) may still represent the holy grail of auto travel because they combine the environmental benefits of electric vehicles (no reliance on fossil fuels and no pollution) with the driving range (~300 miles between refueling) of conventional cars. While GM, Hyundai and Daimler are heavily invested in fuel cell vehicle production, Toyota and Honda are already offering fuel cell vehicles for sale or lease to drivers in California, given the Golden State's head start in creating a hydrogen refueling network. According to the California Fuel Cell Partnership, 27 hydrogen refueling stations are already up and running around metro Los Angeles and the Bay Area, with 33 more coming online soon.
Toyota's Mirai FCV seats four and offers all the trimmings of any new car—touch-screen entertainment, dual climate control, steering wheel mounted controls, radar to prevent accidents and help with parking, and a 312 mile range per fill-up. The MSRP on the Mirai is $57,500, but Toyota is currently offering $7,500 back. Another option is a 36-month lease on the Mirai for $349/month plus $2,499 up front.
Meanwhile, Honda's new Clarity FCV is similarly appointed but offers a roomier interior (seating for five) and a longer range (366 miles per fill-up). Californians can lease the Clarity (it's not for sale in the U.S.) for $369/month for 36 months plus $2,868 due at signing, with Honda covering the first $15,000 worth of hydrogen fuel.
Drivers behind the wheel of the Mirai or Clarity qualify for a one-time $5,000 tax rebate from California for driving a green car, not to mention access to HOV lanes statewide even with just a single occupant.
Of course, fuel cell drivers won't want to leave California just yet. Outside of the Golden State, there are exactly three publicly accessible hydrogen refueling stations (Massachusetts, Connecticut and South Carolina each have one). But later this year Toyota, in partnership with France's Air Liquide, will start to roll-out a new network of hydrogen refueling stations around the northeastern U.S. so drivers there can start to enjoy the benefits of driving the latest, greatest and greenest technology ever to grace the American road.
CONTACTS: California Fuel Cell Partnership Stations Map, cafcp.org/stationmap; Honda Clarity, automobiles.honda.com/clarity; Toyota Mirai, toyota.com/mirai.
EarthTalk® is produced by Roddy Scheer & Doug Moss and is a registered trademark of the nonprofit Earth Action Network. To donate, visit www.earthtalk.org. Send questions to: question@earthtalk.org.