Earthtalk appears every weekend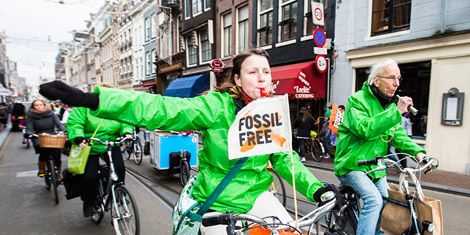 Dear EarthTalk: What is Global Divestment Day and how does it relate to protecting the environment?
With crucial international climate negotiations coming up in Paris in the Fall of 2015, the first ever Global Divestment Day took place on February 13-14, with activists and everyday people across six continents and 48 countries joining together in more than 300 events—including street theater, elaborate props, sit-ins, vigils, dancing, bicycle parades and social media blitzes—all in the name of calling on corporations, foundations, endowments and other institutions to divest from fossil-fuel industries in order to speed society's transition to renewable, non-polluting sources of energy.
The climate movement has embraced divestment—that is, ditching stocks, bonds or investment funds deemed unethical or morally ambiguous—given how effective the tactic was in helping topple Apartheid in South Africa by shaming the companies still willing to do business there. Other successful divestment campaigns have targeted tobacco as well as companies doing business in the embattled nation of Darfur.
"The fossil fuel industry has our political process in shackles with its financial might," says Fossil Free, the group that created and organizes Global Divestment Day. "But we are matching their financial might with a different kind of power… Through divestment, we are directly challenging the social license of these corporations who have become rogue entities seeking profits at the expense of people and planet."
Global Divestment Day, the group argues, highlights a conflict that most politicians are loath to address: "If the world is to avoid catastrophic global warming, most known fossil fuel resources need to stay in the ground. Yet fossil fuel companies not only plan to extract and sell their existing reserves but are exploring ever more sensitive territory to find new ones, thus ruining any chance of securing a safe planet."
Fossil Free and other groups and individuals participating in Global Divestment Day are asking portfolio managers to stop adding new investments in fossil fuel companies and to sell off their holdings in the top 200 fossil fuel companies within five years. To date more than 200 institutions with combined assets topping $50 billion have signed on committing to divest in fossil fuels. Some of the heavy hitters so far include the Rockefeller Brothers Foundation, the British Medical Association, Stanford University and the World Council of Churches.
Meanwhile, a growing chorus of voices from the financial and investment communities agrees that divestment might be the quickest route to mitigating climate change. A senior investment analyst with European investor Axa IM told the Guardian that "moral issues" are playing a role in recent low oil prices "with the divestment movement steadily gaining traction amongst investors across the globe."
Fossil Free points out that divestment isn't so much an economic strategy as a moral and political one.
"Just like in the struggle for Civil Rights here in America or the fight to end Apartheid in South Africa," the group reports, "the more we can make climate change a deeply moral issue, the more we will push society towards action." The group adds that divestment also forces prominent institutions and individuals to choose sides, sparking public debate on the topics at stake and raising awareness for doing the right thing. "We need to make it clear that if it's wrong to wreck the planet," Fossil Free concludes, "it's also wrong to profit from that wreckage."
CONTACT: Fossil Free
EarthTalk® is produced by Doug Moss & Roddy Scheer and is a registered trademark of Earth Action Network Inc. View past columns at: www.earthtalk.org. Or e-mail us your question: earthtalk@emagazine.com.