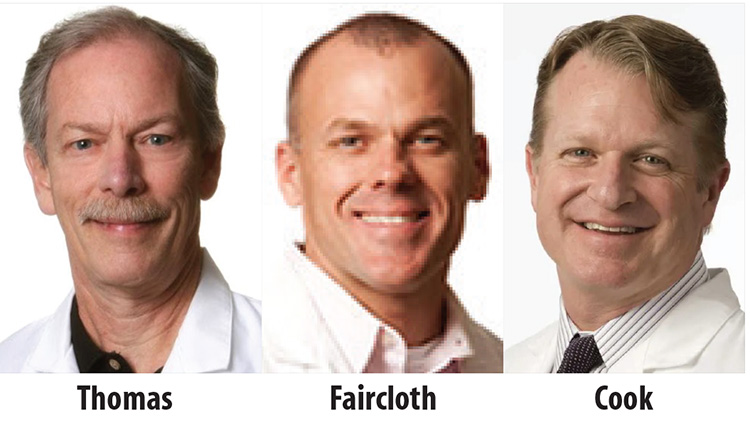 The new opening day is March 19 for Holston Medical Group, the Tennessee practice that recruited 40 doctors from Novant. Three of the doctors are popular physicians at Lakeside Family Practice, including Dr. David Cook, Dr. Jackie Faircloth and Dr. Michael Thomas.
"The response from the community and from our patients has been overwhelmingly positive," said Dr. David Cook, one of the early leaders of Lakeside and a physician leading this transition.
Around 5,000 patients have completed transfer forms online, he said.
The following office locations have been selected as the new locations for the physicians transitioning to Holston Medical Group:
HMG at 275 N Hwy 16, Denver
HMG at 268 Gilman Rd., Denver
HMG at 13808 Professional Center Dr., Huntersville
HMG at 13620 Reese Blvd., Huntersville
HMG at 9611 Sherrill Estates, Huntersville
HMG at 9816 Sam Furr Rd., Huntersville
HMG at 9735 Kincey Ave., Huntersville
HMG at 10030 Gilead Rd., Huntersville
HMG at 123 Professional Park Dr., Mooresville
HMG at 150 Fairview Rd., Mooresville
HMG at 115 Commerce Point Blvd., Mooresville
HMG at 10320 Mallard Creek Rd., Charlotte
HMG at 10826 Mallard Creek Rd., Charlotte
HMG at 3500 Mount Holly Huntersville Rd, Charlotte
Novant patients who wish to continue care with their physician at their new locations should contact Holston Medical Group at 1-877-HMG-1213 or by completing a form on the Holston Medical Group website so that Holston Medical Group staff can contact them to establish a new account and schedule their appointments.
Holston is recognized for a physician-driven approach to healthcare.
The practice will offer patients online appointment scheduling, medication refill requests, secure messaging with the care team, and more through the online patient portal MyHMG.
"We are committed to remaining in our current communities and furthering our efforts to provide cost-effective, value-based solutions for patients, meeting the medical needs of our communities," said Dr. Ehab Sharawy, another physician leading this transition. "As a physician-owned and led organization, we have a responsibility to provide the best care at an affordable cost for the communities and patients we serve. We will continue to seek opportunities to provide options in our market that best meet our patients' needs and we are excited about our partnership with Holston Medical Group to bring new innovations to our market."
Contracts between Holston Medical Group and major insurance companies are expected to be finalized soon. Patients will continue to have access to their provider as contracts are worked out. All patients are welcome, and the physicians are dedicated to the continuation of care for patients.
For more information or to sign up for updates related to this transition, please visit the Holston Medical Group website at www.holstonmedicalgroup.com/nc-patients-form/.