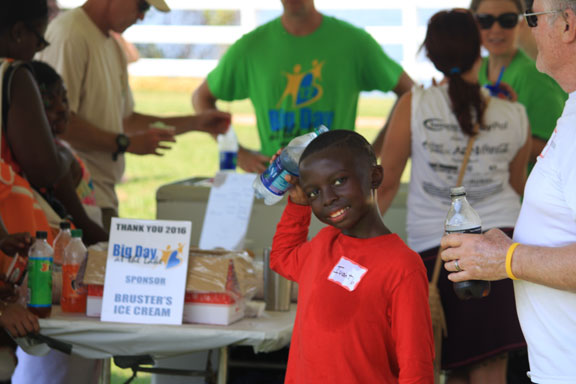 Big Day at the Lake ​2017 officially ​gets under way Thursday April ​27 with the Beach Bash at Port City Club in Cornelius. ​Put on your beach clothes and enjoy food and drink specials, ​shag DJ​ "Youngblood" Scott Smith​ from 97.1 WSGE and a silent auction and raffle.
​All proceeds benefit Big Brothers Big Sisters of Greater Charlotte. ​
The Beach Bash fundraiser starts at 5:30 p.m. Port City Club is on Harborside Drive in Cornelius. The cost to attend is $5.
Big Day at the Lake puts at-risk youngsters from Big Brothers Big Sisters and their ​mentors—Big Sisters and Big Brothers—out on Lake Norman and Mountain Island Lake for a day of fun each year. This year's event will be held on Saturday July 2​2​.
This year's fund-raising goal is $100,000. Two businesses are Presenting Sponsors this year: PayPal and Champion Tire.
Kevin Mahl, co-founder of Cornelius-based Champion Tire, said he and business partner Jamie Rolewiscz have "always subscribed to the idea that every kid deserves a chance."
​"​Big Brothers Big Sisters​,​ with the help of Big Day at the Lake​,​ ​provide​ a foundation for kids to gain a brand-new perspective on the world. Who knows where that might take them!  After hearing some of the stories, it seems like Big Day at the Lake provides a lot of perspective to more than just the kids as well," said Mahl.
PayPal is also a Presenting Sponsor. John McCabe, senior vice president of global operations for PayPal, said PayPal's core mission is making it easy for consumers and merchants to reach their financial dreams.
"Strong family values and strong community values are the fundamental foundation of an individual's success. Big Day at the Lake and Big Brothers Big Sisters creates that foundation and the local PayPal team is proud and honored to help in any way we can. Together we can enable the success of people and dreams and aspirations in a way that is fun and inspiring," McCabe said.
Thanks to businesses and individuals, Big Day at the Lake is responsible for raising over $​80​0,000 for Big Brothers Big Sisters since its inception in 2003.
There is a $5 donation at the door. To donate items for both the live and silent auctions, or for more information about this year's event, call 704-560-​7​534​. Big Day at the Lake updates can also be found online: Facebook Big Day at the Lake or at www.bigdayatthelake.com.