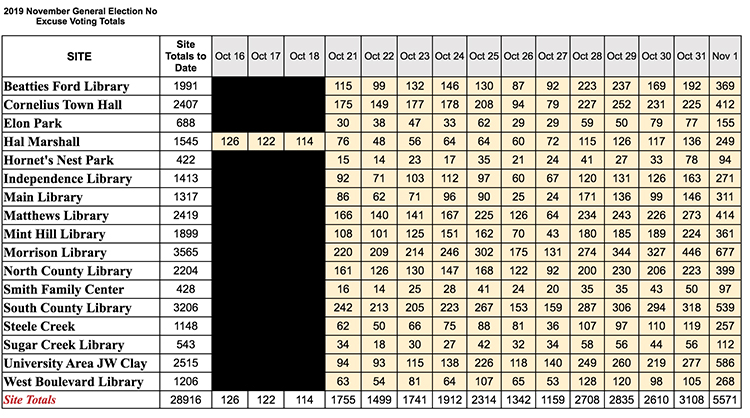 Nov. 5. By Dave Yochum. Exactly 28,916 Mecklenburg County citizens participated in Early Voting this year, according to the Board of Elections. How they voted will be unknown until sometime after 7:30 pm when polls close.
About 36,000 voted early in 2017. That's about 5 percent of registered voters, and double the number in city and town elections two years ​before.
Typically, Democrats make up a significantly higher portion of the early voting electorate while Republicans make up a significantly higher portion of the Election Day vote.
So, the first wave of results—the Early Voting tallies—can be skewed. ​But municipal elections are a little different since they are nonpartisan.
We spoke to election expert Andy Yates, who is managing Mayor John Aneralla's re-election campaign in Huntersville this year.
"​Early voters in municipal elections tend to be the most ardent supporters or opponents) of one or more of the candidates as well as those folks who always, always vote​," says Yates, who recently merged his firm with Greener and Hook, a national public affairs and political consulting firm based in Arlington, Va.
​"​The early vote will still skew Democratic in municipal elections but not by nearly as wide of a margin as it does in partisan elections​," says Yates.
It means a candidate like Thurman Ross can take an early-vote lead in Cornelius, while Republicans ​catch up on Election Day.
​There were 15 days of early voting in total, 12 at Cornelius Town Hall and at 16 other locations around the county.
At Cornelius Town Hall, a total of 2,407 people voted, some of them from Davidson, some from Huntersville and anyone else in the county who found the Cornelius location the most convenient.
​The off-year elections are centered on local elections, including town boards and mayor, the Charlotte Mecklenburg Board of Education and the county-wide sales tax referendum.
​