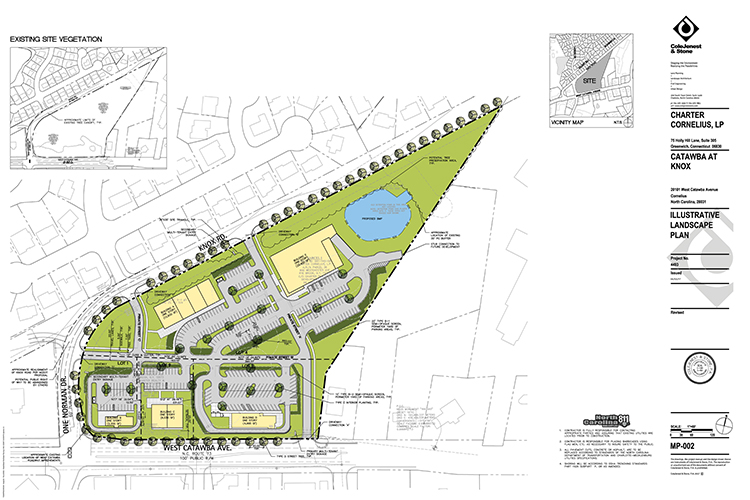 July 11. By Dave Vieser. [Updated 3 pm] A prime 11-acre development site on West Catawba, once slated to be a Food Lion, looks like it will be developed under a proposal submitted by the owner, Charter Cornelius. "Catawba at Knox" will be discussed in detail at a Pre-Development Meeting in Town Hall on Thursday.
Charter Cornelius is planning five commercial buildings comprising a total of 48,225 square feet. The proposal calls for three buildings fronting on West Catawba and two facing Knox Road. In between, a private road with access to multiple rows of parking is planned, and a retention pond/tree buffer is shown on the northeast corner of the parcel near Knox Road.
One building, at 22,500 square feet, is the largest. Access to the development would be from West Catawba on the south side and Knox Road from the north.
The site plan also shows two drive-through windows. Names of potential tenants for the new buildings were not included in the initial proposal but may be discussed at the meeting in Town Hall Thursday.
Charter Cornelius' land development attorney Susan Irvin represents property owner Charter Cornelius, which is part of Charter Realty & Development Corp., a real estate investment, development, and leasing company specializing in retail properties.
Charter, which dates back to 1993, has acquired and developed more than 60 shopping centers and freestanding net leased properties comprising nearly 10 million square feet with a total acquisition and development cost in excess of $1 billion.
Two decades ago the West Catawba property was planned to be a Hannaford grocery store; Hannaford still holds a ground lease on the wooded site just west of the Lake Norman Realty building. Maine-based Hannaford has since backed out of the Southeast and focuses instead on five states in the Northeast. A Hannaford spokesman said the company will work with the property owner around development plans.
Commercial real estate broker Tom McMahon, of Cornelius-based SVN Charlotte Commercial Real Estate Advisors, said the property is a "perfect site" for development. "It's been a long time coming," he said.
The site was just recently annexed into the town and a temporary building moratorium has expired. A public hearing will need to be conducted before any work can begin, according to Planning Director Wayne Herron. "This property is now in the Town limits," Herron said, noting that it was previously in the town's Extra Territorial Jurisdiction (ETJ). "Either way, it would not have impacted the development review."
The property is located within the Highway Commercial Zoning District west of I-77. The moratorium ,which was lifted in June, permitted the town to establish a zoning district "which will allow through conditional zoning, uses that would be compatible and appropriate with normal land use and aesthetics, while also taking into account trip generation and traffic congestion management," said Herron.
Charter had originally leased the property to Delhaize, the parent company of the Food Lion supermarket corporation. However Delhaize merged with Ahold, another supermarket ownership giant, and their plans to hold it unused until 2021 were abandoned. According to the town, Delhaize had actually received approval for a shopping center plan in the late 1990's, but chose to not build at that time.