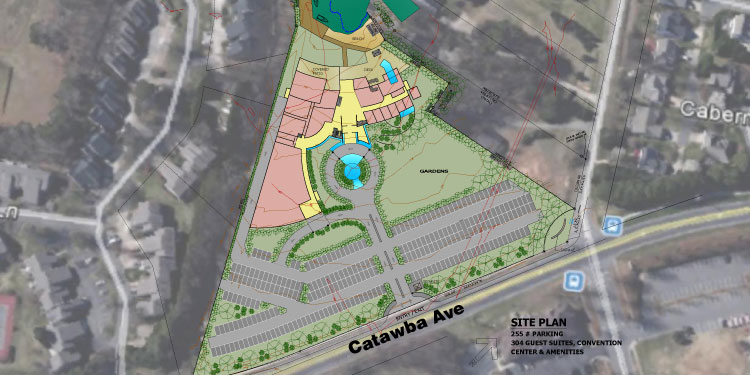 Aug. 11. By Dave Yochum. About 90 people attended a community meeting last night put on by the developer of a proposed hotel and convention center on West Catawba Avenue, just past the big curve, and across from Kenton Place.
There are two views of the meeting at Town Hall. Land use attorney Susan Irvin, who represents owners Sreeramulu and Prasunama Nara, said it went fine. Indeed, she ran a crisp, friendly meeting and never once seemed perturbed, despite an intensely skeptical crowd.
"Meeting space for 700 people, 300 suites, 200 parking spaces…none of it makes sense"

– Cornelius resident speaking at last night's meeting
Residents chuckled any number of times when plans for the project were laid out, even though the new plan is for an eight-story complex, not 14 stories as first proposed. With between 200 and 300 rooms, it would be the largest commercial project like this in Cornelius. The planned meeting facility—there are none like it now in Cornelius—could accommodate 700 people.
To view the application, click here.
When a resident polled attendees and asked how many were in favor of the proposed hotel in the midst of a residential area, not a single hand went up. Among their concerns:
More congestion on this part of West Catawba Avenue, which jams up during the afternoon commute.
Inserting a large commercial project into a residential neighborhood when Kenton Place is across the street and has undeveloped property.
The parking plan—for 200 cars right now—is way inadequate. However, parking could be built underground, said Jake Bachman, a staffer for Cole Jenest & Stone, the design firm.
Water runoff from parking especially could run into Lake Norman. Right now the project has 160 feet of waterfront, but discussions are under way to acquire more property.
"Meeting space for 700 people, 300 suites, 200 parking spaces…none of it makes sense," one resident said.
Bachman said: "We do have to address the parking—whether with a parking structure or reducing the number of units."
Community meetings like this one are non-judicial. They're designed to allow the developer to show the community designs and plans, and give residents a chance to provide input.
Meanwhile, the two-lane West Catawba Avenue won't be widened and improved from Jetton to Sam Furr Road until 2020. Right of way acquistion could begin next year and town officials do hope to get the NCDOT to start construction sooner than 2020.
The Nara's proposed hotel and convention project, in the pre-development stage, was first proposed as a 12-story hotel and convention center. They have owned the property for years. Land records indicate the largest parcel is assessed at $596,000; a smaller adjacent parcel at $175,000.
One town official said the proposal "will take a lot of time to work through" the town planning process, partly because of its ambitious nature. "The number of rooms will have to come down…this has a lot of miles to travel," the official said. "All they did was ignite people last night. It won't be anything near what they showed us."
Next Steps
The Town of Cornelius will contract with traffic engineer to perform a traffic impact analysis that.will be paid for by the applicant. Because West Catawba Avenue will be widened in 2020, there will essentially be two studies—one with the existing road, and one for a four-lane road.
Town staff will do a "site specific review" of the Nara's proposal against local ordinances and land use plan, and provide that information back to the applicant.
When the traffic impact analysis is completed, possibly in about two months, it will be reviewed by all parties, including the NCDOT. It's possible that the project could get in front of the Planning Board in October or November.