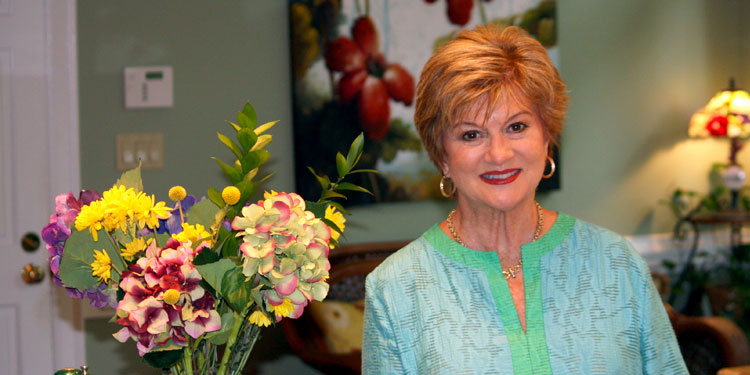 One of the friendliest people you'll ever meet in Cornelius is this month's Cornelius Cook, Sharon Washam. A businesswoman in her own right, she is also the wife of Woody Washam, the highest vote-getter in the 2013 Cornelius Town Board elections. As the top vote-getter, he became mayor pro tem.
Now she's Woody's campaign manager, in addition to managing the Washam's rental properties.
Sharon grew up in Boonville in what is now the Yadkin Valley Wine Region. "Back then it was all tobacco farms," she says.
She went on to Gardner-Webb College and "then moved to Winston-Salem—the big city then—and became a fancy secretary, my dream."
After a year or two, that wasn't challenging enough so Sharon moved on to a career in marketing and sales at companies like Ingersoll-Rand, R-Anell Custom Homes and B. R. Lee Industries where she took the controls of more than one asphalt road paver. "You can't sell it if you can't run it," she says.
The couple lives on Chapel Point Lane with their treasured Bichon Frise,  Sophie Lynn. "She is also our campaign mascot!" Sharon says.
She is also a member of Mt. Zion United Methodist Church where she is on the Board of Trustees. Her parents Bobby and Ethel Hobson, still live in Boonville. "My mother is still a wonderful cook at 93 years young. She cooks for my Dad and herself every day."
When it's time to entertain, it's "mostly outside and casual, around the pool or lake with lots of friends and family."
What's special about this dish: "This blackberry cobbler is my Mom's recipe.  We helped her pick blackberries as kids on the farm and always loved the cobblers and jams that she made. This is a simple recipe – so quick, easy and delicious."
---
Mrs. Hobson's Blackberry Cobbler with Dip
Ingredients 
3/4 cup self-rising flour
3/4 cup sugar
3/4 cup milk
1/2-3/4 stick butter or margarine, melted
1 qt.  blackberries (or other berries or fruit)
Preparation
Mix flour and sugar, add melted margarine or butter and milk.  Pour in the bottom of a 9" by 9" pan.   Add berries.  Bake at moderate heat (325 degrees) for 30 min.
Mixture will come to the top and form a crust.
Make a "dip" from 1 glass of milk, 3 tablespoons sugar and a few drops of vanilla.  Pour over individual servings.
Ice cream or whipped cream is delicious as well.