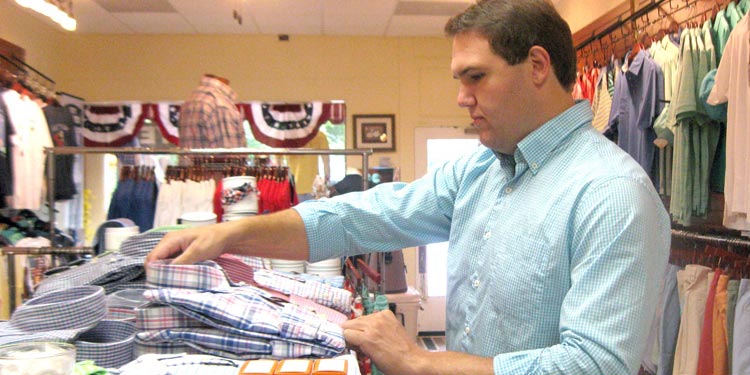 By Dave Vieser. Dixieland Clothing at 109 N. Main St., Davidson, which sells a variety of classically casual clothes invoking an upscale Southern lifestyle, is the brainchild of Tyler Hampton.
"I saw a need for this type of store in the Lake Norman area," said Hampton, 25, who will be a senior at UNC-Wilmington this fall. "People shouldn't have to drive into Charlotte or elsewhere to select their special southern clothes."
Hampton co-owns the store with his mother, Jan Hampton. He comes home on the weekends to run the store and Jan takes over when he is not there. The 900-square foot building at the intersection of Main Street and Davidson/Concord Road is actually owned by Dr. Donald Copeland, Jan's dad, who founded Lakeside Family Physicians. Prior to Dixieland Clothing, the building housed a bike and skateboarding shop—which Tyler Hampton owned and ran.
The serial entrepreneur plans to go to law school after graduating next year.
Dad Michael Hampton owns Hampton's Mobile Service in Huntersville.
As the name would suggest, Dixieland carries brands with a natural fiber, down south flair, including Southern Tide, Southern Proper, Southern Point, Southern Marsh, High Cotton, Anchored Style, Rowdy Gentleman, Atlantic Drift, Costa Del Mar Sunglasses, and YETI Coolers, which Hampton referred to as the "Cadillac of coolers."
Hampton says business is ahead of last year; weekends and, ironically, Mondays, are strong sales days. "I don't know why but we're always quite busy at the beginning of the week." He says that the parents of the students at Davidson College also enjoy shopping there while visiting the school.
What's his most popular item? "Anything with Reagan/Bush 84 is in great demand these days," Hampton says.
Number of employees: Two, Tyler and his mother, Jan Hampton
Revenue first 12 months: Around $300,000. Next 12 months: "I don't really have a forecast, but we're performing better for sure."
First job: "I built carbon-fiber race car parts for Crawford Race Cars in Denver. Started when I was 15."
Start-up financing: Back Pocket Bank
Break-even occurred: Within the first six months.
Next big thing: "We're thinking about a Birkdale or Langtree location. We would love to be there."
Quotable: "Most of this kind of clothing—classic, preppy, casual—never really went away, but it has definitely gotten more popular."