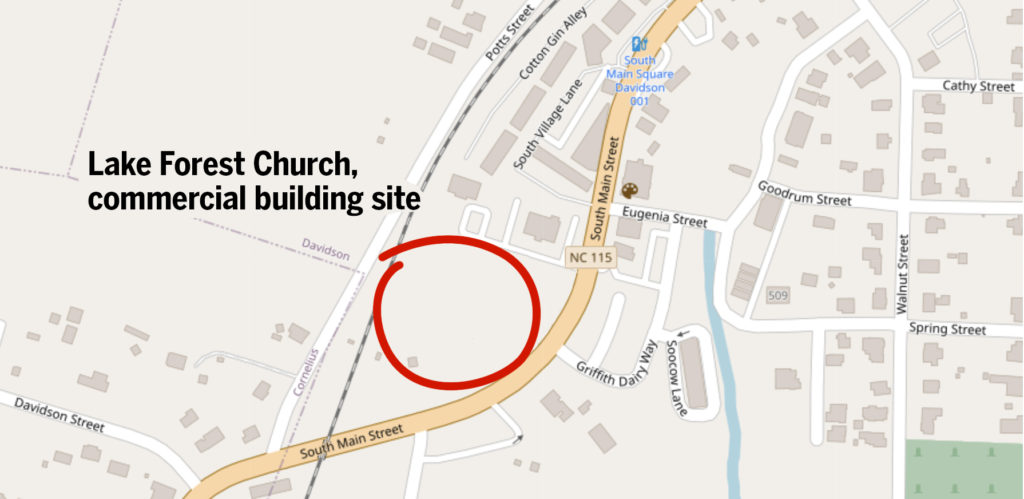 Oct. 1. The Davidson Board of Commissioners has unanimously approved a conditional planning area map amendment that will allow the Lake Forest Church to build a a commercial building and a church on South Main just north of the Cornelius border.
The project includes +/- 4.11 acres on three parcels: 480 S. Main St. (the former Davidson Family Clinic site); 496 S. Main St.(currently a single-family home) and a vacant lot just south of 496 S. Main St.
The owners of 480 S. Main are listed as Rebecca McIntosh; 496 S. Main, Julius Jennings Wade III and Cary Page.
Lake Forest Church plans to build a three-story commercial building fronting South Main Street (20,000 square feet to 30,000 square feet) and a two-story church facility (minimum 20,000 square feet) toward the rear of the property. The proposed plan preserves the existing single-family home located at 496 S. Main for church offices. 
Lake Forest Church has campuses in Huntersville and Denver, as well as offices in the Cotton Mill in Davidson.