Aug. 2. The Town of Davidson is  accepting applications from nonprofits for grant funding for the 2022-2023 fiscal year. Those interested in information and applying, click here.  www.townofdavidson.org/nonprofitfunding.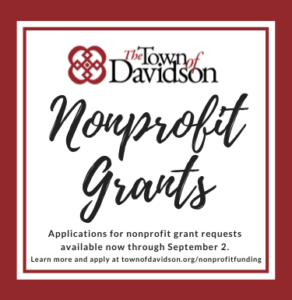 The application deadline is Friday, Sept. 2.
Program grant guidelines are as follows:   
—Nonprofit agencies must serve the Davidson community and meet a public purpose that the town government does not directly provide but could if facilities and staffing were available. The nonprofit agency must be experienced in delivering that service.
—The maximum amount of funding available is $50,000.
—Non-profit organization interested in funding services or projects should be in alignment with current Town of Davidson Core Values http://townofdavidson.org/472/Mission-Statement and Strategic Plan Goals.http://townofdavidson.org/1152/Strategic-Plans
For information, please contact Parks and Recreation Operations Manager Gina Carmon at gcarmon@townofdavdison.org or 704-940-9644.