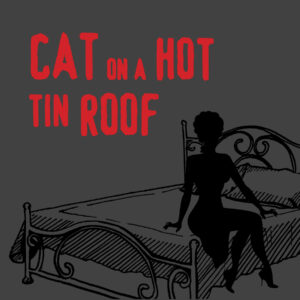 March 15. The Davidson Community Players will present Tennessee Williams' Cat on a Hot Tin Roof March 23-April 2.
Advance tickets are on sale now: adult, $23; senior (65+), students under 21 years, $18.
The show will be directed by Andy Rassler at the Armour Street Theatre, 307 Armour St.,  Davidson.
Recommended ages 14 and older.
Synopsis
In a plantation house, a family celebrates the 65th birthday of Big Daddy, as they sentimentally dub him.
The mood is somber, despite the festivities, because a number of evils poison the gaiety: greed, sins of the past and desperate, clawing hopes for the future spar with one another as the knowledge that Big Daddy is dying slowly makes the rounds.
Maggie, Big Daddy's daughter-in-law, wants to give him the news that she's finally become pregnant by Big Daddy's favorite son, Brick, but Brick won't cooperate in Maggie's plans and prefers to stay in a mild alcoholic haze the entire length of his visit.
Maggie has her own interests at heart in wanting to become pregnant, of course, but she also wants to make amends to Brick for an error in judgment that nearly cost her her marriage.
Swarming around Maggie and Brick are their intrusive, conniving relatives, all eager to see Maggie put in her place and Brick tumbled from his position of most-beloved son.
By evening's end, Maggie's ingenuity, fortitude and passion will set things right, and Brick's love for his father, never before expressed, will retrieve him from his path of destruction and return him, helplessly, to Maggie's loving arms.