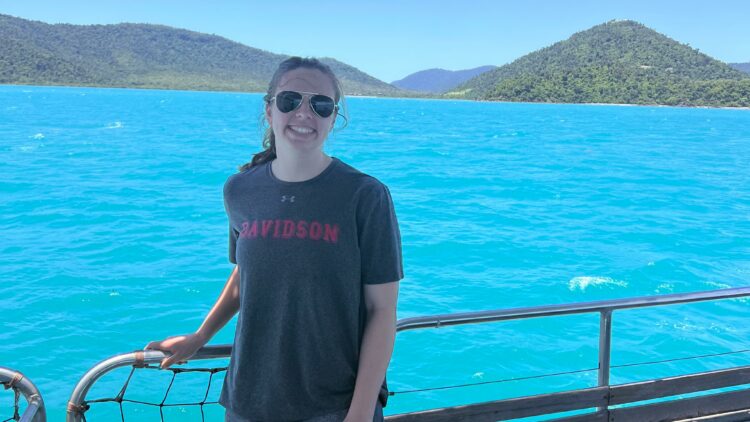 March 27. The State Department's Bureau of Educational and Cultural Affairs (ECA) recognizes Davidson College and other U.S. colleges and universities that received the highest number of applicants selected for the 2022-23 Fulbright U.S. Student Program.
Six students from Davidson were selected for Fulbright awards for the academic year 2022-2023.
Fulbright is the U.S. government's flagship international educational exchange program. It is also among the largest and most diverse exchange programs in the world. Since its inception in 1946, more than 400,000 participants from all backgrounds and fields.
Davidson College caught up with two of the Fulbright winners from this class —Alex Loeb '22, English teaching assistant grant, Spain, and Virginia Gilliland '22, research grant, Australia—to learn more about their experiences:
Alex Loeb '22, a 2022 recipient of a Fulbright English Teaching Assistant award, now lives in Oviedo, the capital city of Asturias, which is an autonomous community in northwestern Spain.
Loeb teaches English to students in Langreo, a small town about a 45-minute train ride from his home. The classes focus on both culture and language, and his students range from roughly the Spanish equivalent of seventh through 12th grade.
Loeb, a self-described people-person, is staying busy with two ambitious side projects. He volunteers as a writing mentor for a Spanish high school student applying to universities in the U.S. and has assisted in editing her application materials. He is also working on a comparative music project that involves the history and modern performance of traditional Asturian music and music originating in North Carolina, which Loeb says are surprisingly similar.
Virginia Gilliland, research grant, Australia, said "I recently returned from my first field trip up to the Great Barrier Reef with the Marine Ecology Group at Macquarie University. The reef was incredible!
"We surveyed sites on the southern Great Barrier Reef and were quite remote–at our farthest, we were over 150 nautical miles offshore. We did snorkel surveys in the water to sample sea cucumbers, and deployed the remotely operated vehicle  from a small boat to capture footage of fish and corals.
Fulbrights in the World
Fulbright alumni work to make a positive impact on their communities, sectors and the world, and have included 41 heads of state or government, 62 Nobel Laureates, 89 Pulitzer Prize winners, 78 MacArthur Fellows, and countless leaders and changemakers who carry forward the Fulbright mission of enhancing mutual understanding.