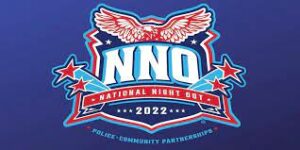 Oct.  3. Davidson residents are invited to join the Davidson Police Department on its National Night Out celebration on Thursday, Oct. 6.
The event was originally scheduled for Tuesday but postponed because of Ian. It will be held 5-7 pm Thursday at Roosevelt Wilson Park, 420 Griffith St.
The event is free and open to the public. On-street parking will be available, though residents are encouraged to walk or ride their bikes.
National Night Out is an annual crime prevention and community-building event, sponsored by the Davidson Police Department to promote involvement in crime prevention activities, police-resident partnerships, and neighborhood cohesiveness.
This year's event will offer hamburgers and hot dogs, along with sides and an ice cream truck. There will be a football throw, basketball hoop, dunk tank and scavenger hunt, and music performed by Mayor Rusty Knox, the Bailey Sweet River Band, Multiply Church- Lake Norman and more.
The Davidson Police Department will distribute information and items from the Watch for Me NC initiative to educate residents about pedestrian safety.