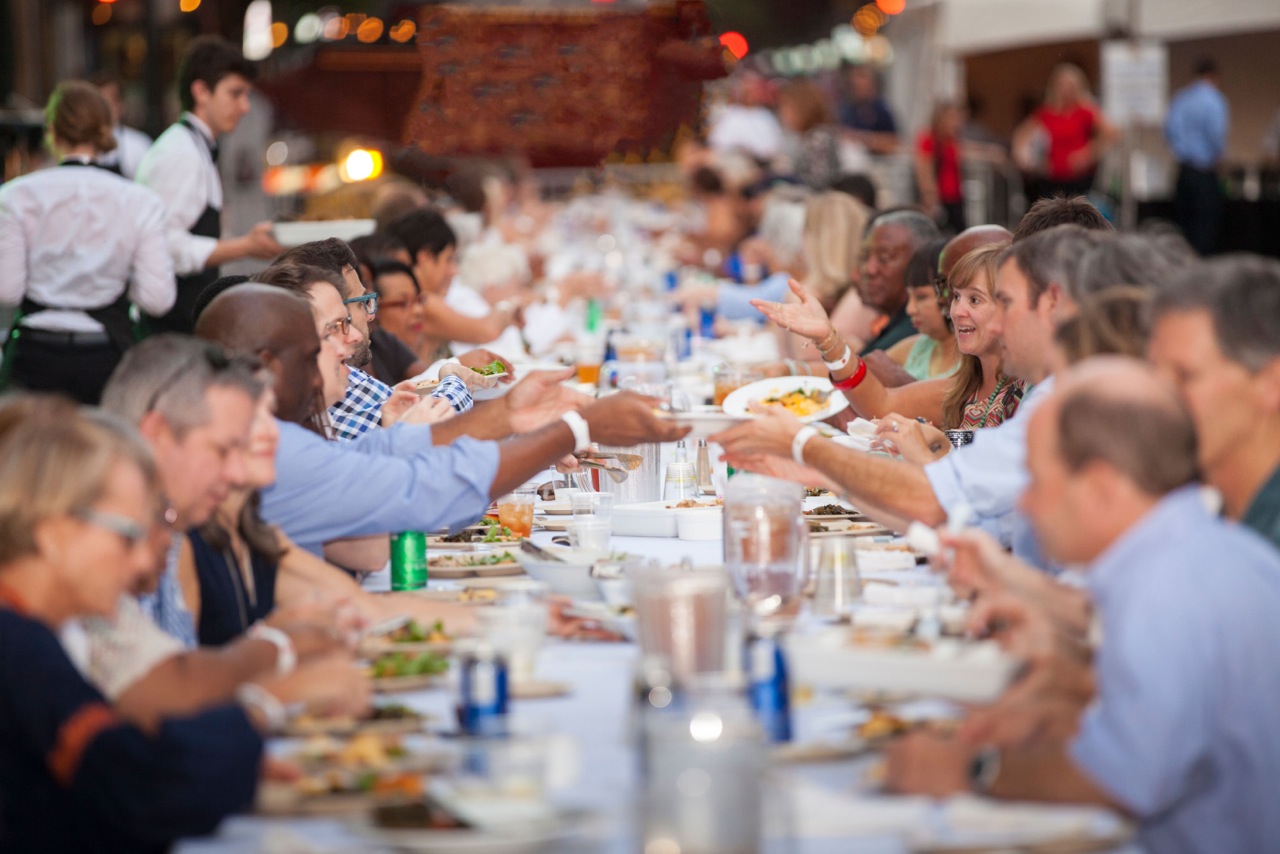 July 10. Arts, culture and food will come together in a big way Sept. 8 when the Arts & Science Council hosts the Culture Feast in downtown Cornelius at the same time it's held in the NASCAR Hall of Fame Plaza in Uptown Charlotte.
"We have seen how people from different neighborhoods, backgrounds, socio-economic levels, race and ethnicities, talk and connect with each other through arts and cultural experiences as well as a wonderful meal during Culture Feast," said ASC President Robert Bush. The towns of Cornelius, Davidson and Huntersville will co-host the Cornelius feast.
The third annual event takes place simultaneously from 7-11 p.m. ​in both Charlotte and Cornelius. Catawba Avenue will be closed in front of Town Hall. Guests will share a community table in ​the ​streets​ followed by music by RevelWood Mission in Uptown Charlotte and the Lake Norman Big Band in downtown Cornelius.
Here's the menu: Spinach Salad with Honey Roasted Shallot Vinaigrette / Parmesan Crusted Chicken with sage butter cream sauce / Garlic Mashed Potatoes / Haricots Vert Green Beans / Rolls / Individual Éclair cakes / Iced Tea and Water. A vegetarian meal includes Eggplant Parmesan and all the other items except chicken.
Created in 2015, Culture Feast uses arts and culture to bring people together and build bridges across difference. Past performances featured Opera Carolina, Carolinas Latin Dance, Drums 4 Life, Carolina Voices, Nouveau Sud Project​ and​ Jazz Arts Initiative​.
Dinner tickets can be purchased at CarolinaTix.org beginning July 10. Single tickets are $35; two tickets are $60 when using the promo code "CultureForAll."
The Arts & Science Council provides around $13 million a year for artistic and cultural endeavors. Recipients include:
100 Black Men of Charlotte, Inc.
100 Words Film Festival
A Sign Of The Times of the Carolinas
ACAL of Mexico
Actor's Theatre of Charlotte
Arts For Life
Bechtler Museum of Modern Art
Behailu Academy Nfp
Blumenthal Performing Arts
Carolina Raptor Center
Carolina Voices
Carolinas Asian-American Chamber of Commerce
Carolinas Aviation Museum
The Carolinas Latin Dance Company
Caroline Calouche & Co.
Central Piedmont Community College Foundation, Inc.
Charlotte Art League
Charlotte Ballet
The Charlotte Book Fair
Charlotte Center City Partners Community Trust
Charlotte Chorale, Inc.
Charlotte Cinema Arts
Charlotte Repertory Orchestra Inc
Charlotte Dance Festival
Charlotte Dragon Boat Association
The Charlotte Folk Society
Charlotte Jewish Film Festival
Charlotte Museum Of History Inc
Charlotte Pride, Inc.
Charlotte Regional History Consortium
Charlotte Symphony
Charlotte ViewPoint
Charlotte Youth Ballet Inc
Children's Theatre of Charlotte
The Choir School At St Peters
Circle De Luz Inc
City at Peace – Charlotte, Inc.
Clayworks
Clean Air Carolina
Collaborative Arts Theatre
Community Building Initiative
Community Education Project
Community School of the Arts
Cornelius Youth Orchestras
Davidson College
Davidson Community Players
Digi-Bridge
Discovery Place, Inc.
Donna Scott Productions
Downtown Davidson
Festival in the Park
Firebird Arts Alliance Inc
Gay Mens Chorus of Charlotte
Harvey B. Gantt Center for African-American Arts + Culture
Historic Bain Restoration Committee
Historic Rosedale Plantation
India Association of Charlotte
Indian Performing Arts Association of Charlotte
InReach
Inspire the Fire
International House of Metrolina, Inc.
Japanese Association in Charlotte
Jazz Arts Initiative
La Escuelita Bilingual Preschool at Holy Comforter
LATIBAH Collard Green Museum -affiliate program of ADEPT ARTIST Inc. 501[c] 3
Latin American Coalition
Latta Plantation
The Lesbian & Gay Community Center
Levine Museum of the New South
The Light Factory
Machine Theatre, Inc.
Many Journeys
Martha Connerton/Kinetic Works
Matthews Parks, Recreation and Cultural Resource Department
Matthews Playhouse of the Performing Arts
McColl Center for Art + Innovation
Mecklenburg County Park and Recreation
Mint Hill Arts
Mint Museum of Art
Moving Poets Charlotte Inc
Music at St. Alban's
MusicalMinds NC
North Carolina Wildlife Federation
North Mecklenburg Community Chorus, Inc.
Omimeo Mime Theatre
On Q Performing Arts
One Voice Inc
Oneaka Dance Company
Opera Carolina
PaperHouse Theatre
Pearls For Creative Healing Inc
Play!Play! Theatre Company
Playing For Others Inc
President James K. Polk State Historic Site
Project Scientist
Puerto Rican Cultural Society Of Charlotte
Que-OS
Historic Rural Hill, Inc.
Savvy Organization Inc
Silent Images Inc
Southeast Asian Coalition
Southminster Community Fund
StageWorks Theatre
Starving Artist Productions
Stephen Seay Productions
Supportive Housing Communities Inc
Sustain Charlotte Inc
TAPROOT
Theatre Charlotte
Three Bone Theatre
Town of Cornelius
Town of Davidson
Town of Huntersville Parks & Recreation
Town of Mint Hill
Town of Pineville
Triptych Collective
The University of North Carolina at Charlotte
The Warehouse PAC
Wing Haven
World Parade and Festival
Lake Norman YMCA
Siskey Family YMCA