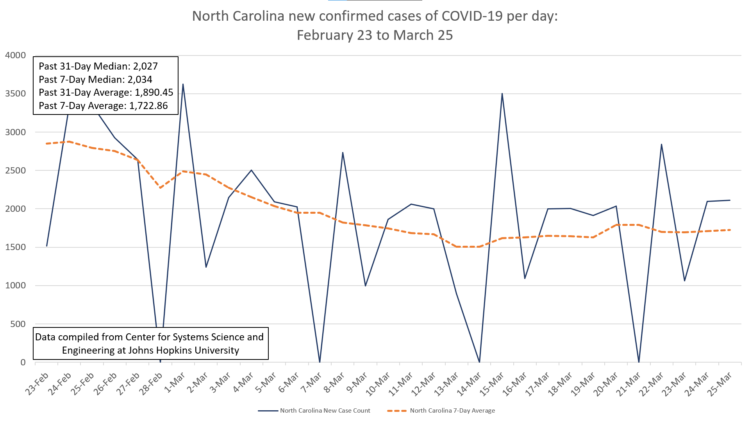 March 26. The median number of new coronavirus cases over the past seven days (2,034) statewide is running a scant .345 percent ahead of the median during the past 31 days (2,027), based on COVID-19 data supplied by Johns Hopkins University.
Back in mid-February, the median of the prior week was 21.7 percent below the preceding 31 days, also based on statewide COVID-19 data from Johns Hopkins.
It means the rapid post-holiday decline in the volume of new cases has ended for now.
More eligible for vaccines, fewer restrictions
Gov. Roy Cooper yesterday said all adults will be eligible to get vaccinated by April 7. On Wednesday he announced that retailers could fully reopen and that restaurants, breweries and gyms will be able to open at 75 percent capacity indoors and 100 percent outdoors. Bars will be able to operate at 50 percent. Masks in public are still required.
New cases
The NC Dept. of Health & Human Services today reported 2,154 new COVID-19 cases, up from 1,915 new cases exactly one week ago. There were 275 new cases reported in Mecklenburg, up from 205 new cases on Friday a week ago.
Hospitalizations
Statewide, hospitalizations were at 933 today, down from 970 one week ago.
Deaths
There were 41 new COVID-19 related deaths statewide, two in Mecklenburg County.
Testing
The statewide positive test rate was at 4.3 percent in today's report. Mecklenburg County was 5.3 percent.
Vaccinations
There are more vaccines coming into the community, but appointments will be harder to come by as eligibility opens. Mecklenburg County Health Director Gibbie Harris said the state should get an increase in supply in early April. According to NCDHHS, more than 1.5 million North Carolinians have received full doses of the vaccines.
North Mecklenburg
Cornelius: 8 new cases, 2,643 cumulative; 24 deaths total.
Davidson: 10 new cases, 1,525 cumulative; 15 deaths total.
Huntersville: 9 new cases, 5,398 cumulative; 47 deaths total.