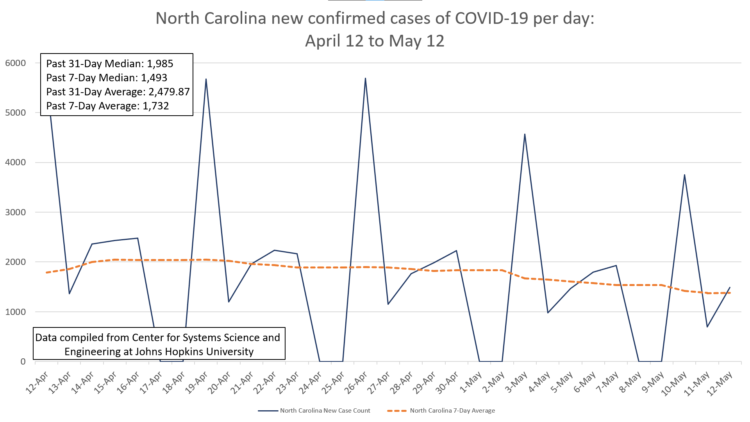 May 13. The NC Dept. of Health & Human Services today reported 1,394 new COVID-19 cases, down slightly from 1,493 new cases yesterday. The median of the past seven days of reported results (1,493 cases) statewide is 24.8 percent below the median of the past 31 days (1,985 cases). (See chart; data from Johns Hopkins.)
Hospitalizations
Statewide, hospitalizations were at 925, down from 933 yesterday.
Deaths
There were 23 new deaths attributable to COVID-19 statewide, according to NCDHHS.
Testing
The statewide positive test rate was at 4 percent percent in today's report. Mecklenburg County was at 5.7 percent.
Mecklenburg
134 new cases from yesterday to today; 1 new death from yesterday.
North Mecklenburg (change from yesterday to today)
Cornelius: 0 new cases, 2,858 cumulative; 25 deaths total.
Davidson: 1 new case, 1,676 cumulative; 15 deaths total.
Huntersville: 6 new cases, 5,962 cumulative; 50 deaths total.