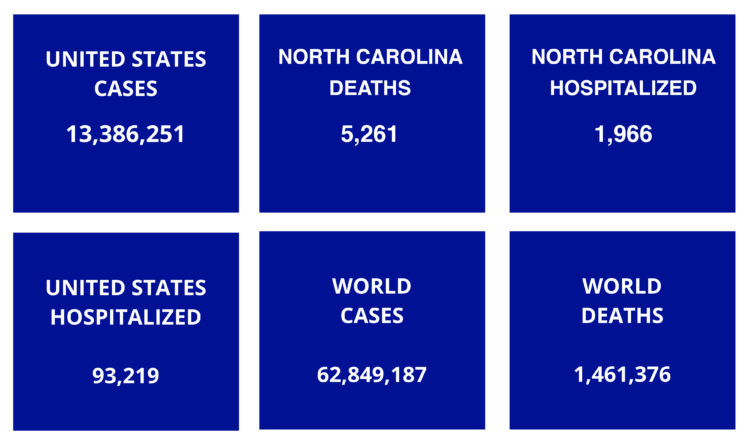 Nov. 30. By Dave Yochum. The NC Dept. of Health and Human Services reported a record 1,879 people hospitalized statewide due to COVID-19 on Sunday. But the record stood for only one day, with an increase of 87 patients overnight, for a total of 1,966 hospitalized in today's NCDHHS report.
Some perspective: On Oct. 30, there were 1,196 people hospitalized due to COVID-19; on Sept. 30, there were 956. After the early summer spike, there were 1,239 people hospitalized as of July 30.
There were also 21 new deaths in today's report, down from 72 new deaths reported on Friday and 64 on Wednesday last week. The statewide total is now 5,261 deaths due to COVID-19.
The total number of cases statewide increased by 2,734 in today's report, down from 4,000-plus daily new cases two weeks ago.
The U.S. Centers for Disease Control and Prevention changed the way states count COVID-19 hospitalizations, which helped increase the state's numbers by more than 10 percent on Nov. 13. The daily number of people hospitalized has continued to rise since then with hospitalizations increasing as well.
Total cases
Statewide, the cumulative total of COVID-19 cases now stands at 364,512
Testing
The positive test rate statewide jumped to 9.5 percent, up from 6.6 percent one week ago. In Mecklenburg County, positive tests were reported at 7.4 percent. Health officials want to see positivity rates decreasing from 5 percent.
Mecklenburg
In Mecklenburg County, there were 358 new cases in today's NCDHHS report. There were four new deaths between yesterday and today due to COVID-19, 24 new deaths in the past week. Huntersville had one new COVID-19 death, according to NCDHHS.
North Mecklenburg
Cornelius: 2 new cases, 960 cumulative; 17 deaths total.
Davidson: 8 new cases, 543 cumulative; 7 deaths total.
Huntersville: 18 new cases, 1,841 cumulative; 15 deaths total.