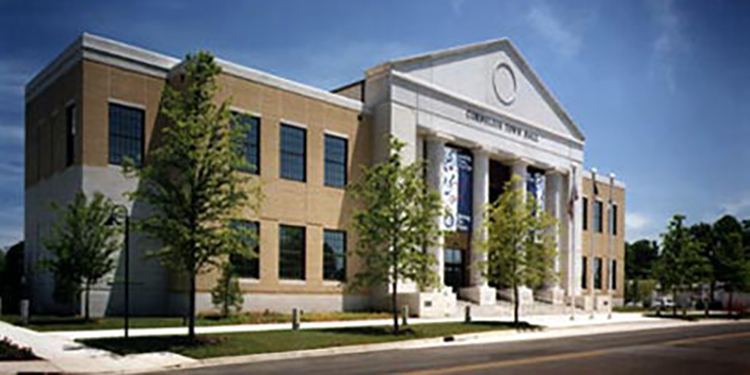 Sept. 18. By Dave Yochum. Cornelius Commissioner Michael Miltich has a new job no one wanted: Representing Cornelius on a brand-new committee organized by a school system that doesn't want give us any money.
It's more tit for tat in what's becoming a monumental fight between urban and suburban interests in Mecklenburg County education.
On Monday night the Cornelius Town Board approved the formation of an educational options study commission—the Huntersville board did the same—to study local education options going forward.
Mayor Woody Washam said he wants a "small but powerful group" that represents the best thinking in both private and public education as well as charter schools.
Commissioner Denis Bilodeau said the current CMS process for addressing capital needs in North Mecklenburg is unacceptable. "While our Town does not want to be in the business of managing schools, the recent action by CMS leaves us no choice but to evaluate options to meet the future needs of our children," he said.
The ultimate goal of the educational options commission is determining what's best for Cornelius—including whether creating a town charter school is a good idea in a town with four excellent schools.
A growing number of people think it is, given the CMS track record around parting with funds for new schools for North Mecklenburg.
The first shoe to drop was the CMS bond issue approved county-wide in November of 2017. The $922 million spending plan provided virtually no new schools in Cornelius, Davidson and Huntersville, a stunner for leaders of all stripes in North Mecklenburg.
In response, the North Carolina General Assembly approved House Bill 514,  which was designed to give Cornelius and Huntersville, as well as Mint Hill and Matthews, the right to create town charter schools funded with local taxes—not county taxes.  These new charter schools could also prioritize local children—which, naturally, reinforces color lines.
North Carolina charter schools traditionally do not recognize geographic boundaries.
The next shocker was the CMS board approving the "Municipal Concerns Act of 2018" in August. It cut Huntersville and Cornelius out of future school construction funding unless they passed a binding resolution not to pursue town charter schools for 15 years.
Hence the 4-1 vote Monday to establish an educational study commission. Commissioner Thurman Ross, the only African American on the board, cast the lone dissenting vote.
"Two wrongs don't make a right," he said, arguing that dialog with CMS is a better tactic than establishing a committee that draws another line in the sand.
Mayor Woody Washam stuck to his guns, however. He said it would be "fruitless to have dialog without muscle behind it."
The mayor, who captured the sentiments of the rest of the board, said it was important for Cornelius to start planning now for the possibility of a town charter school.
"Waiting longer and letting time go by is not in the best interest of our students," Washam said, saying there was no telling what CMS might pull next.
Ross is not alone by any means. Davidson had the opportunity to join in HB 514 but opted not to do so, based on the inherent strength in a broad public school system that educates all children equally.
Davidson Town Commissioner Jim Fuller said public schools are the "paragon" of democracy.
"They teach our children…not only math and grammar, but so much more, about life and community. We should work
together to make CMS better, not drain needed resources that will leave it starved and weaker," Fuller said in an interview with Cornelius Today.
CMS is a failed bureaucracy, Cornelius Commissioner Dave Gilroy said.
"Charlotte Mecklenburg Schools is an enormous, colossal bureaucracy that has reached a scale and scope that doesn't meet the needs of local kids," he said.
The thinking behind the charter school debate—not the politics—will be the subject of a Newsmakers Breakfast Sept. 26 at The Peninsula Club.
Newsmakers Breakfasts are an open-forum Q&As with people who make the news. Anyone can ask a question. The buffet-style breakfast gets under way at 7:30 a.m. The Q&A begins at 8 a.m. and concludes at 9 a.m. Doors open at 7:15 a.m. for networking.
The cost to attend, $12, includes a full country breakfast and beverages. Reserve a seat by calling 704-895-1335 with Visa or MasterCard.
The Presenting Sponsors are Dixie Dean and Christina Stone, Allen Tate Realtors based in Cornelius. The Breakfast Sponsors are Master Title Co., the title division of Allen Tate and First National Bank. Coffee Sponsors include Davidson Wealth Management, Hood Hargett Insurance and KS Audio Video.