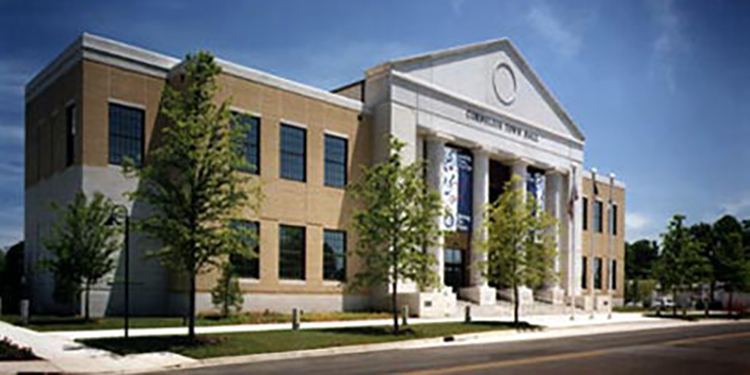 Sept. 17. B​y Dave Vieser. Unlike a similar citizen panel in Huntersville, Cornelius' educational options  commission made no firm recommendations on whether Cornelius should get involved in sponsoring or cosponsoring a charter school, or push for a new school district.
At the Cornelius Town Board meeting last night, the commission outlined school options that could be  more problematic than practical.
Nevertheless, student populations are growing faster than classrooms will for the next 15 years. Indeed, CMS has no significant plans for classrooms in North Mecklenburg in spite of a projected 10,000-student increase in enrollment.
The General Assembly passed H514 back in June. It allows Cornelius, Huntersville, Matthews and Mint Hill to create their own charter schools. NC Rep. Bill Brawley sponsored the bill, explaining that more school options were necessary due to overcrowding at CMS.
The Huntersville Town Board voted to pursue a municipal charter school.
The Cornelius commission identified five options, without making a specific recommendation:
+Do Nothing
+Partner with CMS
+Open and Operate Municipal Charter School(s)
+Partner with an Existing Charter School
+Create a New Local Education Agency (LEA)
Pros and cons for each option were presented to the board members.
"I believe we have a regional issue," said Town Commisioner Kurt Naas, who was also a member of the education options commission.  "I am not sure we are going to solve this with a municipal approach," Naas commented after the committee revealed that existing charter schools had expressed little appetite for teaming up with local towns.
Meanwhile, there are significant legal and geographic issues which would make such an approach extremely difficult. The Town of Davidson, a logical partner in a new smaller school district, was not part of HB514.
Moreover, forming a new a school district, could require statewide legislation and might prove to be an extremely difficult political lift, observers said.
Mayor Woody Washam thanked the commission for their work.
"I do not believe the time is right now to explore the charter school or school district options, though that day may come. For now, we have excellent schools in Cornelius, so what I believe is critically important is to maintain our dialogue with CMS and encourage them  to organize themselves in a way where we get more control up here," he said.
Washam also said that only one CMS board representative from the northern area "is simply not enough."
The Mayor wants to see CMS revoke their controversial municipal concerns act which cut capital spending for Cornelius among other towns. Finally he revealed that he has a meeting set up with the new superintendent of schools, Earnest Winston.
In other action, the town board:
​Approved the Schematic Design for the Cain Arts Center. It includes a 400 seat theater, three classrooms, an art gallery, boardroom, dressing rooms, greenroom, office space, and outdoor activity areas.  The square footage is approximately 32,800 sq.ft.
​U​nanimously adopted an update to the Bailey Road Park master plan to incorporate a tennis facility, restroom, parking, pickleball facility and potential restaurant.  The original park master plan was adopted in 2000 and is being updated to reflect growing demand for additional court space in Cornelius. The updated plan was developed following  input from citizens via a public workshop and an online survey.
​Set a public hearing for Monday Oct​.​ 21 on the proposed abandonment of a portion of Pine Street behind Food Lion. Approximately 304 square feet of the road is located within a parcel slated to be occupied by Mulberry Townhomes, a project which was approved by the Town Board ​back in April.