Sept. 17. It will be a game of numbers, in which diligence plus a little luck could equal success for anglers competing in the Basspro.com Bassmaster Southern Open at Lake Norman.
Competition days will be Sept. 23-25 with daily takeoffs from Blythe Landing Park at 7 am. On Days 1 and 2, weigh-ins will be held back at the park at 3 pm. The Day 3 weigh-in will be at 4 pm at the Bass Pro Shops in Concord Mills.
David Williams of Maiden, currently second in the Southern Division points, said lingering warmth means a possibly challenging scenario. Water temperatures are in the upper 70s to low 80s, and that's still the stuff of summer patterns.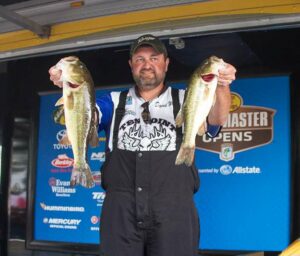 Fish theory
"It really hasn't gotten cool enough to get them into their fall feed," Williams said. "A lot of the fish are still schooled up out in the middle of the lake or in the main-river channels. They haven't really made a push to the bank or to the creeks.
Having fished Lake Norman since his childhood, Williams has seen the lake shift from a largemouth-dominated fishery to one where spotted bass take center stage. While the North Carolina Wildlife Resources Commission recently stocked 2,000 F-1 largemouth (Florida strain/Northern bass cross), it was illegal spotted bass introductions a few decades back that yielded today's complexion, estimated at 80/20 spots to largemouth.
"It's not a bad thing. You can catch a lot of fish, but catching the right ones can be difficult," Williams said.
Rock and brush
Noting that rock and brush will be the dominant habitat features, Williams said he expects shaky heads, small swimbaits and topwaters to see a lot of action. Based on the dynamic nature of summertime spotted bass fishing, he believes the entire lake will be in play — at least initially.
"There will typically be a region of the lake that's hotter than the others, but it could be won out of any region," he said. "You never know where the best region is, but they'll typically bite better in one region than another. That will stay consistent unless you get some kind of drastic weather change."
Lake Norman is North Carolina's largest man-made lake located wholly within the state.