The town's police force knows "Cornelius Cares" after one of the most devastating incidents in the department's history May 2.
Residents came together for police to the tune of $1,600 in nickels, dimes, tens and twenties during the Cornelius Cares police fund drive over the next 10 days.
It all happened after a double shooting at a teenager's house on Coachman's Trace. Lt. James Quattlebaum was badly injured, but saved by a bullet-proof vest.
Sixteen-year old Greyson Ferrell was released on $1 million bail after being charged with attempted first-degree murder, among other charges.
Police describe the incident as both a domestic dispute and an ambush. The young man, whose parents could not be reached for comment, was also wearing a bullet-proof vest. Officer Jeff Heinz returned fire taking down young Ferrell, who had, in the past, posted violent rants against police on his Facebook page.
The incident could not have come at a more difficult time for police in the wake of controversial officer-involved shootings and deaths around the country.
The Obama administration in May announced it will ban federal transfers of certain types of military-style gear to local police departments, as the president seeks to restore trust in urban communities across the country.
Mayor Chuck Travis said that the local shooting, especially because it involved one of their own as well as a minor, had an impact on the department, which employs about 60 uniformed officers.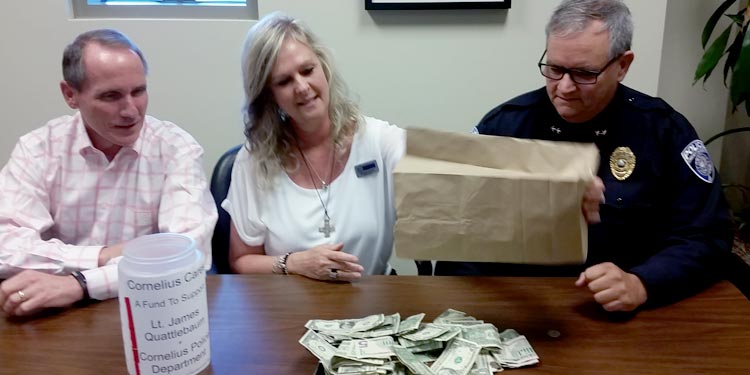 The good thing, he said, was the outpouring of support for local police.
Cornelius Cares collection jars were placed in Acropolis Cafe & Grill, Aquesta Bank, Bank of the Ozarks, Brooklyn South Pizzeria, Charlie's Coffeehouse, CommunityOne Bank, The Cook House, Kindred Restaurant, Old Store Produce and Prosciutto's Pizzeria as well as Cornelius Town Hall.
Of the $1,600 collected, $750 went to Quattlebaum; $250 went to his assisting officers, Christine O'Neil and Heinz. The remaining $350 was put into a discretionary fund to benefit police officers and their families.
Chief Bence Hoyle said he plans to establish at 501c3 to accept donations from the community in the future.
"I really think this is the story, the positive story of how we all came together as a community," said Mayor  Travis.
The Cornelius Cares account was established and is maintained by Cornelius Today and Business Today.