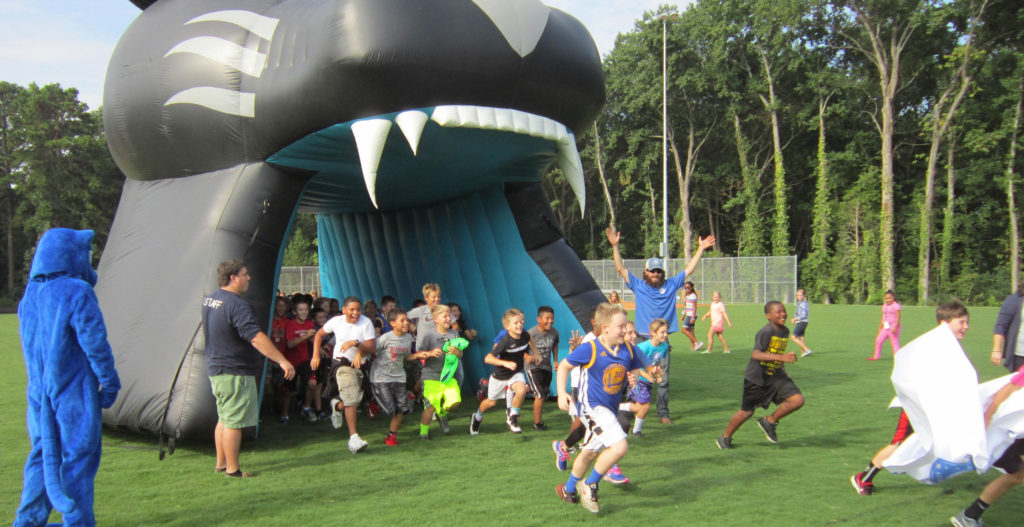 Sept. 9. "The grass is so green and so soft!"
That's what a good many of the 610 students from Cornelius Elementary School had to say as they walked across the new Neighborhood Park Ball Fields during the dedication this morning. Built in partnership with Charlotte-Mecklenburg Schools, the complex, which cost $1.4 million, encompasses over 20 acres and includes four totally rebuilt lighted T-ball fields, two multi-purpose fields, an outdoor basketball court, and a quarter mile walking track.
Funds for the construction of the park came from the proceeds of the town's park bond issue approved by voters in 2013. In conjunction, the town has forged an agreement with CMS which will give Cornelius use of the facilities for 30 years.
"Many of your parents and grandparents had great times playing baseball at this site, and by rebuilding this facility, we're creating future memories for you too," said Mayor Chuck Travis. He called the park another enhancement to the town's quality of life.
Both town and school officials complimented the teamwork which moved the project along. "We especially appreciate the efforts of our Town Commissioners and PARC Commissioners, and the voters who supported the 2013 park bond referendum that made this wonderful new facility possible," said Parks Director Troy Fitzsimmons. He noted that the town's parks department was celebrating its 20th anniversary in 2016, growing from 15 acres of facilities in 1996 to 240 acres with the new complex.
There also seems little doubt that the fields will be heavily used. "We're already fully booked through the fall," Fitzsimmons added.
Rental information for the new fields is available by accessing www.cornelius.org/117/Rental-Information.