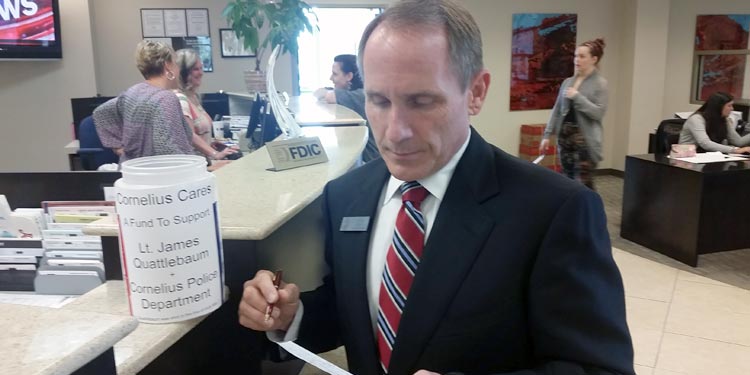 May 3. Jars for a special fund called Cornelius Cares will be placed at Aquesta Bank's two branches in Cornelius as well as Bank of the Ozarks tomorrow for Cornelius Police Lt. James Quattlebaum who was shot in the line of duty on Saturday.
Other locations for the Cornelius Cares account are being accepted at Acropolis Cafe, Brooklyn South, Community One, Cook House, Old Store, Kindred, Town Hall, Prosciutto's Pizzeria & Pub and Charlie's – The Coffeehouse LKN.
Quattlebaum is expected to fully recover from the shooting which occurred during a domestic dispute on Coachman's Trace just before noon on Saturday. The suspect, a 16-year-old boy, is in custody. Posts on his Facebook page indicate a troubled history over the past several months.
Mayor Chuck Travis expressed concern for Quattlebaum and his family. "Our prayers go out to an officer injured in the line of duty and his family, as well as the boy's family," he said. "This is a tragedy for everyone involved. This is a time for pulling together, and recognizing the courageous service of all our police personnel."
All monies donated to Cornelius Cares will go immediately to Quattlebaum and/or a discretionary fund for Cornelius police officers. The account is maintained by Cornelius Today.
Early contributors include Mayor Travis; Kathleen Rose from Rose & Associates Southeast; Aquesta and Pat Jackson, president of Master Title, as well as Cornelius Today and Business Today. For this particular fund, checks are not tax deductible.