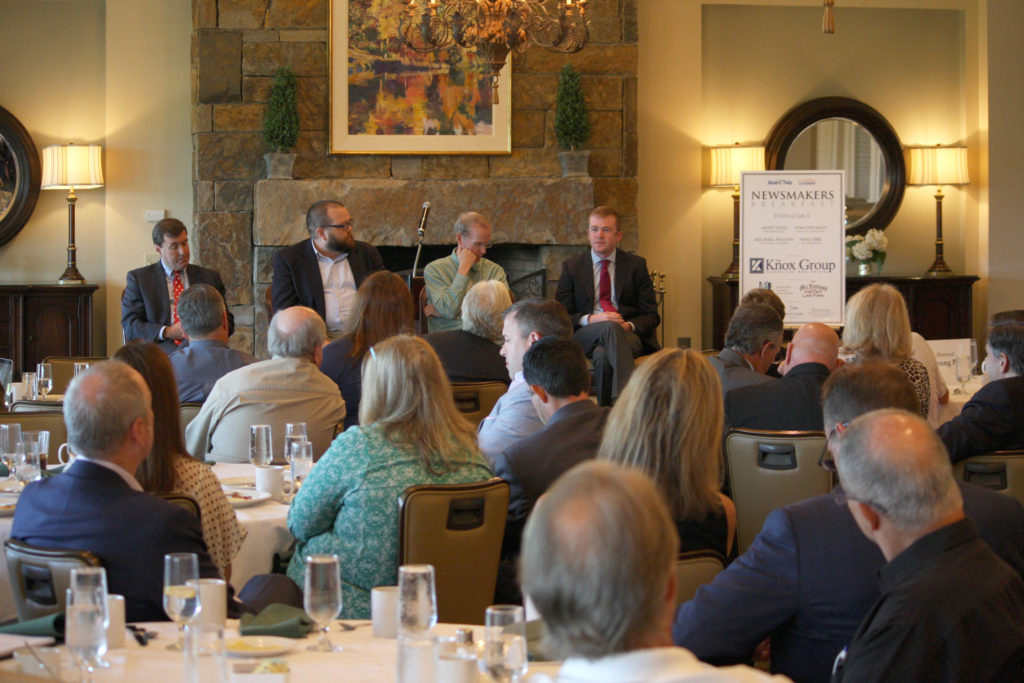 By Donald White. House Bill 2 and voter identification have been big issues in the General Assembly, so it was no surprise that they would top the agenda when two Democratic and two Republican political consultants took audience questions at the Cornelius Today and Business Today Newsmakers Breakfast in September.
The economic and social impact of HB2 took center stage during the panel discussion, held at The Peninsula Club in just seven weeks before an election that will see races for president, governor, U.S. senator and the entire council of state along with a host of local races and judgeships on the ballot. But the consultants disagreed on how big a factor the debate over the so-called bathroom law will be in the Nov. 8 election.
Republican consultant Andy Yates, founder of the Red Dome Group, said HB2 "does not register with voters" as a top concern. He said his polling has shown that issues such as education and job creation are much more salient for people who plan to cast ballots this year.
"HB2 makes for great TV," Yates said, but for the average voter it is "way down the list of priorities."
Democrat Michael Wilson, who is working on Chaz Beasley's campaign for the N.C. House of Representatives, said the passage of HB2 originally made him want to leave North Carolina. He changed his mind when he met Beasley and decided to leave his position as an investment banking analyst for Wells Fargo Securities and work on the campaign full time.
Wilson cited what he called a bifurcation in how North Carolina voters are reacting to the effects of HB2.
"State-level polling (outside of Mecklenburg County) shows a much greater focus on the social issue aspect" of the law, he said. But, he added, Charlotteans are much more concerned about how the law affects jobs and the state economy. Those concerns are echoed by business leaders, who are focusing on competitiveness and nondiscrimination, Wilson said.
Consultant Tom Chumley, a Democrat who has worked as a strategist on numerous campaigns, said HB2 feeds into a perception that lawmakers in Raleigh have an anti-urban bias and are treating large metropolitan areas such as Charlotte like "a great big liberal cash cow."
Chumley said the controversy over HB2 represents a big departure from past North Carolina leaders who worked to forge consensus during times of contentious debate. He said past leaders during the civil rights movement, including Charlotte Mayor John M. Belk, helped prevent the kinds of violence other cities were seeing by bringing people together to integrate the city.
GOP consultant Neal Orr of PBT Advantage says it's unfair to pin the blame for HB2 totally on Republicans in Raleigh. "There's politics everywhere involved in it," Orr said. "It certainly didn't start in Raleigh."
Orr said that few people have actually read the text of HB2, which is only four pages long, but "everybody has an opinion about it."
It remains to be seen how the HB2 issue will ultimately play out at the ballot box, but Chumley said it could benefit Democrats across North Carolina because "the intensity on HB2 is in urban areas" that oppose the law and want to see it repealed. "This is going to come back to bite" North Carolina Republicans because most new voters are coming to populous areas such as Mecklenburg and Wake counties, Chumley said.
Voter ID
One issue North Carolina voters won't face at the polls this year is voter ID. An appeals court in July struck down a North Carolina law that would have required voters to present an ID when they show up at their polling place.
Chumley said the law was unnecessary because in-person voter fraud, where someone impersonates a voter, is essentially nonexistent. He said the real fraud comes from absentee ballots, which favor Republican candidates, "but that issue was never touched" when state lawmakers were writing the bill.
The appeals court decision was the correct one, Chumley said, because it targeted Democratic constituencies in a way that was intended "to slow down the vote."
Orr, on the other hand, said that because the voter ID law never went into effect its potential impact remains unclear. And Yates said that without an ID requirement "you can't tell whether there's fraud."
I-77 tolls
Road construction and road funding also came up during audience questions for the panel, and there was wide agreement from panelists that the I-77 toll lane contract with Cintra was handled poorly.
Chumley cited North Carolina's history of having "pretty good roads" funded by gasoline taxes. "We violated that deal" by implementing the toll lanes, he said. "We're not raising money like we should for roads."
Yates said toll lanes are "a very salient, huge issue" in the North Mecklenburg and Iredell County areas but "not an issue" elsewhere in the state.
The Knox Group was the Presenting Sponsor of the Newsmakers Breakfast. Breakfast sponsors were Donna Moffett Accountants & Consultants and The McIntosh Law Firm. The Coffee Sponsors were Davidson Wealth Management, KS Audio Video and Pierce Family Chiropractic.