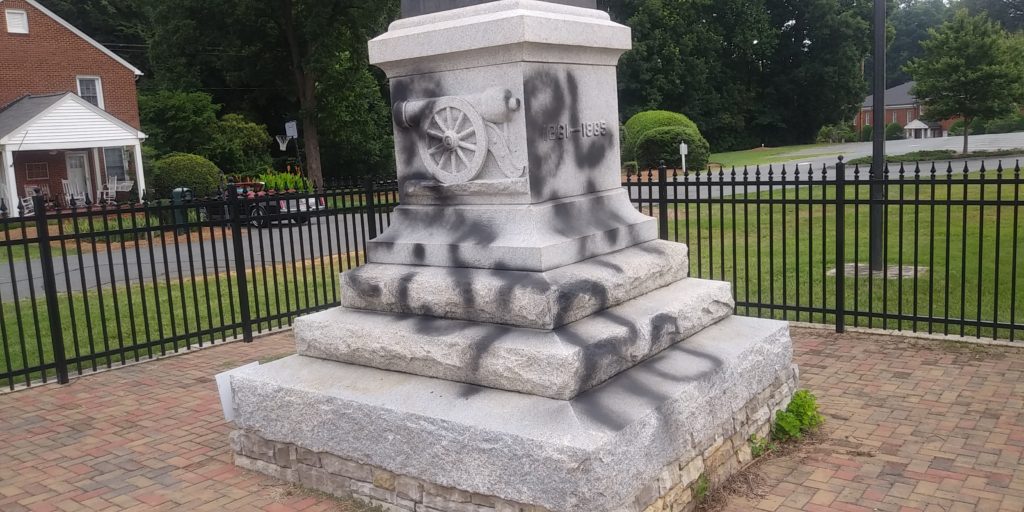 July 7. UPDATED 11 am. The Confederate Soldier monument near Mt. Zion United Methodist Church was defaced overnight. Three suspects have been apprehended.
NEW: Two of the suspects involved are Treyvon Ciccio, and Gabriel Huezo, while the third has not been identified because he is a juvenile, Cornelius Police said. Mecklenburg County arrest records indicate they have been charged with first degree tresspassing and injury to personal property.
Ciccio turns 19 July 31; Huezo is 21. Damage is estimated at $200.
The statue base was spray-painted with the word racist and BLM.
The monument is one of the last Confederate monuments left standing in Mecklenburg County. It has been vandalized twice before since 2015, prompting the Mt. Zion Monument Association to  erect a fence around it and install a camera.
Town officials and the Cornelius Police Dept. "maintain a growing concern for the public safety regarding the Confederate monument in our town," Mayor Woody Washam said.
It has stood facing south Main Street (Hwy. 115) for 110 years. This year, the senior co-pastors of Mt. Zion United Methodist Church publicly called for the owners of the monument to move the granite column and statue. 
Western NC Conference Methodists join call
Their call for immediate removal was joined by the governing body of the church, the Extended Cabinet of the Western North Carolina Conference of the United Methodist Church, and the Unity in Community organization. 
In June, the Rev. Dr. Angela Marlowe and the Rev. Jonathan Marlowe asked the Mt. Zion Monument Association "to consider the harm their monument causes to our Black brothers and sisters."
Their formal letter said they stand ready to assist them "as they go about the hard process of listening to their neighbors."
The monument association, led by Statesville resident Donald Archer, responded two days later: "In today's politically charged climate, many people do not view this memorial as a significant and valuable piece of history. Due to this climate, the association is exploring all options available to protect and save this significant part of the history of Mecklenburg County and the state of North Carolina."
That appears to be the sum total of the association's response as of yesterday.
Unity in Community, which received the LKN Chamber Diversity Champion award in 2018, urged the Monument Association "to proceed in due haste to do the right thing and take down the monument, freeing the community once and for all from this oppressive symbol of White Supremacy over our black brothers and sisters."
Archer and the monument association did not respond.
Then, last week, the Administrative Board of Mt. Zion, the overall governing body of the historic church, also called for the immediate removal of the statue.
Rally July 14
Leaders of Unity in Community have organized a Take Down the Statue rally for Tuesday, July 14.