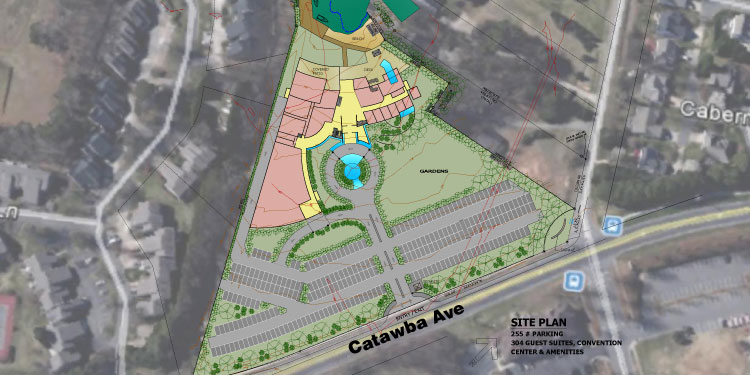 Aug. 8. A community meeting on the hotel and convention center proposed for West Catawba Avenue and Waterview Drive in Cornelius will be held at 6:30 pm Wednesday Aug. 10 at Town Hall. As proposed, the hotel would have 14 stories and 302 rooms.
While planning board chair Brian Simmons said the project "would be a game-changing facility for this town," he said 14 stories would be a "tough sell" to neighbors and the town board.
Cole, Jenest and Stone of Charlotte, a land planning/civil engineering firm, has submitted the project's rezoning application with the town on behalf of the property owner Sreeramulu Nara of Sunrise, Florida. The proposal calls for a two-story convention/meeting center on a vacant five acre plot on West Catawba across from Robbins Park. The adjoining hotel would have 14 levels and 302 rooms.
The plan first surfaced in March at a meeting of the town's Pre Development Review Committee's (PDRC). At that time, the plan's architect, Jeremy Millingen, unveiled the details of the proposal, called the Robbins Park Hotel. Reaction was mixed.
The plan includes a main entrance off West Catawba Avenue, a service entrance on the Marinas Villas side, a small beachfront and a restaurant.
"While something in the 6-8 floor size might be preferred, I don't think height itself should be a deal breaker," said Town Commissioner Dave Gilroy.
One factor in the town's reaction is continued concern over the mix of residential and commercial tax ratables. Right now, 83 percent of the town's ratables are residential.
As far as commerce is concerned, a lack of hotel and meeting facilities is said to hamper robust economic development.
Millingen had indicated that a six story alternative option was also being looked at, and Simmons said that height might be easier to work with from the town's perspective.
But Joel Causey from Cole, Jenest and Stone said last week that he was not aware "anything has significantly changed with respect to the size of the project under consideration."
There's concern among resident regarding the project's size, height and location.
"We had our new home built expecting that the residential zoning which currently is in place would continue" said Scott Boardman, who lives at the southwest corner of Waterview and West Catawba.
At the community meeting Wednesday, residents will have the opportunity to offer their comments and opinions on the project and those concerns will be included in the information packets provided to the members of both the Planning and Town Boards if and when they consider the rezoning