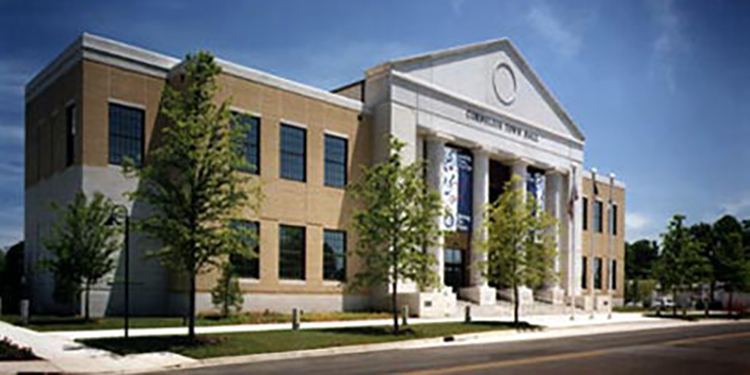 ​
July 14. UPDATED. Two more women have come forward with complaints about Mayor Pro Tem Michael Miltich's behavior. A former local reporter, Cassie Fambro, sent a letter to the Town of Cornelius and WBTV outlining recent behaviors that included touching her arms, numerous texts and making her feel "uncomfortable."
Asked by Cornelius Today to comment, she said "I'm good, but thanks."
But her letter to Town Manager Andrew Grant said: "At the cultural dinner last year he sat down next to me and told me he was a flirt and complimented me inappropriately. He told me he wanted to play roulette with me. He said his wife wouldn't let him." 
Grant sent the letter to Cornelius Today.
Meanwhile, Christine Lundsten, of Yachtman Drive, contacted Cornelius Today and said Miltich, a surgeon, "made a completely inappropriate suggestion" during an office visit in 2005. There was also a non-standard handshake.
Calling that visit "disturbing and confusing," she said she tried notifying the N.C. Medical Board but "their procedure was unfriendly." She and husband, John, are neighbors of Miltich in a well-to-do neighborhood down Nantz Road.
North Carolina Medical Board records shows no "adverse actions" or "administrative actions" on Miltich's license over the past 35 years.
Miltich said he did not remember Lundsten's name. "​I remember shaking a patient's hand that way once; I don't remember the patient. I was in a happy, jovial mode when I entered the room. As soon as I did that handshake, I realized how foolish it was. I stopped immediately and apologized to the patient," Miltich said.
As far as offering to drive any patient home following an elective surgical procedure, I don't recall ever doing so. Patients are responsible for their own transportation.
In a number of conversations with Cornelius Today, he said he is above board and respectful with women, despite having a "reputation as a flirt."
The matter is expected to be discussed during the Town Board meeting Monday.
This is all unfolding as resentment deepens—oddly enough—on the I77Ridiculousness page around some of the original toll lane opponents, Miltich being one of them.
Other toll fighters on the outs include Commissioners Dave Gilroy and Kurt Naas—both of whom, along with Miltich, continue to oppose the toll plan.
Concerns about Miltich's behavior were first reported in the July edition of Cornelius Today.
We reported that one of the leading non-profits in Lake Norman "accelerated and adopted a plan to eliminate the ex-officio board positions and instead, ask the mayors of the participating towns to act as representatives."
The result was Mayor Pro Tem Miltich was quietly eliminated from the Ada Jenkins Center board of directors along with other ex-officio members.
According to a confidential memo that was distributed to members of the Cornelius Town Board late last month, the executive director of Ada Jenkins "experienced a series of contacts with" Miltich at the Ada Jenkins gala and two board meetings "that made her uncomfortable and for that reason she reported to members of the AJC Board's Executive Committee that she preferred she not be left alone in a room with you."
Ada Jenkins Executive Director Georgia Krueger did not comment to Cornelius Today.
Miltich was the highest vote-getter in the November commissioner elections, so, according to tradition, he was elevated to the mayor pro tem position.
The surgeon and long-time community leader has served two terms on the town board.
The mayor pro tem role has no official duties other than to fill in for the mayor during his or her absence.
But under the town form of government in North Carolina, the mayor pro tem position is arguably more powerful than the mayor's because he or she can vote on town matters.
In a closed-door conversation Sept. 7, 2016 at Town Hall, former Mayor Chuck Travis, then-commissioner Woody Washam and the town attorney addressed Ada Jenkins' concerns, but offered no specifics whatsoever.
Miltich said he has "not been able to glean any additional details now or two years ago" about the complaints made by Krueger and the Ada Jenkins board.
The board consisted of five men when the Ada Jenkins/Krueger allegations were brought to the town manager in 2016.
Precisely why the summary from a legally confidential meeting was allowed to be released now is unclear, although it is clear 2017 Commission candidate Michelle Ferlauto asked for the document back in January under the Freedom of Information Act.
She came in ninth in the 11-way race for the town board in November of 2017.
"Citizens have a right to know what is going on with their town board. If there are allegations that harassment is happening behind the dais or while in the capacity of serving, then in my opinion—the public has every right to know," Ferlauto said.
She is a member of the Mecklenburg County Women's Advisory Board.
Town officials have redistributed copies of a Code of Ethics to all commissioners, including Miltich.  Right now, the Miltich allegations are not on the official town meeting agenda for Monday night. One commissioner said if it is not on the agenda—or not brought up by Mayor Woody Washam, he will bring it up. The meeting starts at 7 p.m. in Town Hall.
If a commissioner were to resign, the next highest vote-getter in last year's elections could be elevated to the town board. In this case it's former Commissioner Jim Duke who came in sixth place behind Thurman Ross.