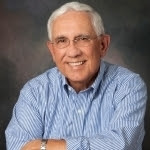 June 22. Jim Duke officially announced today that he will seek a second term on the Cornelius Board of Commissioners. Duke, who was the long-time president of the Peninsula Property Owners Association, is a retired Army Officer and served 24 years as an analyst and supervisor with the federal government.
"I have championed improvements to town services, significant repair and modernization of our parks, streets and sidewalks throughout the town. I hope to continue in what has become a full-time commitment to the residents of Cornelius," Duke said.
First elected in 2013, Duke is the Cornelius representative on the boards of both the Lake Norman Chamber of Commerce and Visit Lake Norman.  He also serves as the Town Representative on the Cornelius PARC Board of Commissioners. He is currently the chair of the Charlotte Water Advisory Committee that provides guidance regarding water rates and management policies. He is widely credited with reforms to Mecklenburg County water management."I am dedicated to keeping lines of communication open between the Town and its residents.  My monthly newsletter keeps folks informed and our monthly Coffee Chats with Mayor Pro-Tem Woody Washam allow us both to keep in touch with issues and people," Duke said in a press release.
Duke has an MBA in finance from Syracuse University and a BBA from Southern Methodist University in Dallas, Texas.
He and his wife Carolyn have been active in the community for over a decade. Duke supports a number of local charities including Big Day at the Lake and is a member of the North Mecklenburg Rotary Club.